Meet Randy
Hey! My name is Randy Simpkins and on this trip you can call me Anchor! I'd like to take a minute to share a little about myself. I am a bivocational pastor at Bowdon First United Methodist Church in Bowdon Georgia. It's the only place that I've ever served as a pastor. I've been local pastor there for five plus years. I answered the call to ministry late in life. I think God was calling me much earlier but I can be pretty stubborn. The turning point for me was March 31, 2000. That was my "eating out of the pig trough" moment. As a successful businessman with a growing family business, I thought I was providing for my family. However, I learned that the things I was providing were not the things with eternal significance. That day, my youngest of three boys, Joe, disappeared. He was found hours later a mile and a half away in the deep woods surrounding our farm. He was okay. It was an event that shocked me into realizing what my priorities should be. My family was young then and I am blessed beyond measure that I realized what was important in my life at that time. As a result, I have sought to put God as my top priority seeking to serve him wherever he leads, and love my family and friends unconditionally.
I am a novice hiker, but have found God calling me for some reason to serve him on the Appalachian Trail. I've hiked the Georgia portion of the AT a couple of times but I did not even know that the Appalachian trail chaplaincy existed until August. I made the decision to hike back in February. Being given the honor of serving as circuit hiker chaplain in 2022 is affirmation that I am doing what God is calling me to do. I am so excited to plug into the hiker community and learn from it. There is a verse that I think about as I prepare for this amazing journey. It's Psalms 118:17 which says, "I will not die! I will live and share what the Lord has done!" I plan to share this adventure on YouTube at anchorhikes if you'd like to follow along. I appreciate your prayers for my family and my congregation while we are separated. Mostly, please pray that I will serve God in a way that is pleasing to him. God bless!
Trail Magic
"And God is able to bless you abundantly, so that in all things at all times, having all that you need, your will abound in every good work." 2 Corinthians 9:8
            As my shuttle driver pulled into the hostel driveway to drop me off for my section hike, I remembered I had forgotten to buy packs of tuna for my lunches. As I opened the door of the van and grabbed my pack, I realized I'd have to find another option for lunch. This late at night the odds of finding a store within walking distance of the hostel, located among the rural hills of Virginia, were about as good as the odds of sleeping soundly in a crowded room full of hikers. I mentally ran through the food I had brought for my section hike and realized I had enough to cover my forgetfulness but realized that tuna salad on a tortilla wouldn't be one of those options.
I settled into my bunk at the hostel only to discover that one of the fellow hikers sharing the room with me bore the trail name, "Tuna".  Amidst thoughts of the forgotten fish, I finally fell asleep. The next morning, I awoke to the smell of the hostel owners making pancakes.  I sat down next to the other hikers and as we ate, one of hostel owners nonchalantly commented that a couple of women who finished a section hike the day before had left several packages of tuna in the hiker box. She stated that "Tuna" took a few packages with him earlier that morning but indicated there were a few left if I would like some. I couldn't believe it! Not quite a loaves and fishes miracle but at least a "two packs of tuna with my tortilla for lunch" kind of miracle. Trying to hide my excitement, I walked over to the box and grabbed two packs of the sacred shredded fish.
            With a belly full of homemade pancakes and the excitement of tuna for lunch, I began my hike. I planned to hike about five miles and then stop at a shelter for lunch. About three miles into my hike, I realized I had forgotten something else: an apple for lunch. Trying not to think about the forgotten fruit, I kept hiking. A few minutes later, as I rounded a bend in the trail, I came across several bushes full of fresh wild raspberries known as wine berries. Though several hikers had passed through that morning, somehow, fresh berries abounded. I picked a couple of handfuls and ate them on the spot. I looked up at the sky and smiled. I liked raspberries better than apples anyways.
            At the shelter, I met a few other through hikers and enjoyed my tortilla stuffed with tuna salad. By afternoon, the Virginia sun was blazing down on my backpack, much heavier than I remembered packing it and I thought to myself, "A cold can of soda would really hit the spot right now." In the off chance there might be a store near the trail, I stopped to consult my guidebook. The closest one was at least a mile off trail. It wasn't worth it. I put my guidebook back in my pack, sighed and kept hiking, trying to pretend my lukewarm water tasted like a cold soda (it didn't).
Half an hour late, the trail crossed a road and then passed through a small gravel parking lot with a few picnic tables before disappearing again into the woods. On the side of the gravel lot, a large family gathered on two large blankets, the men on one and the women on the other, to enjoy a picnic lunch. I noticed one of the thru-hikers, "Bellows" sitting at a picnic table so I waved and asked if I could sit next to him. As Bellows and I started to chat, one of the men from the families came over and asked us if we wanted something to eat. He explained that they were Afghan refugees living in DC and they had been out for a drive that day to enjoy the countryside. Bellows and I looked at each other and then both said, "Sure!" While one of his family members prepared a plate of food for each of us, we tried to explain to the man why we seated at a picnic table in rural Virginia carrying large backpacks.
"You mean there's a trail that is 2000 miles long? And people walk the entire length? By themselves?" the man said, his soft light blue eyes looking at us somewhat incredulously.
 "Yes!" Bellows replied. "And I've already hiked almost 1000 miles!"
By this time, one of the other family members had set plates of food in front of us. Before I could begin to consume the wonderful assortment of vegetables, meats and flat bread, one of the men asked if either of us would like a soda to go with our meal. "Of course!" I responded. Within a few minutes, an ice-cold ginger ale sat beside my plate of food.  Bellows and I thanked the family for their kindness. They just smiled and said it wasn't a problem.
I couldn't believe it. Less than half an hour before, I had been craving a cold soda, something which seemed impossible to obtain. Now, not only did I sit with a cold soda in hand, but at a place prepared for me by a group of people many in the United States had once considered an enemy. Bellows and I eventually said goodbye to our new friends and ended our night at a shelter several miles down the trail, tired but filled with the joy of a wonderful afternoon. Bellows left the trail a few days later and I would spend the next several weeks on and off the trail, sometimes paying forward the trail magic I had encountered on my hike and often finding more trail magic showing up in unexpected ways. 
During the past few weeks, when the word "abundance" might have felt like an antiquated term, I've often thought about that magical day on the trail. We live in a society that embraces a perspective that abundance exists only if we have the proper resources, education, work ethic or social status. Yet, Jesus tells us in the ninth chapter of Mark that "all things are possible" if we believe. Philippians tells us that God will meet all of our needs, and through the story of Hagar, Genesis shows us that even when we've run out of water in the desert, God still sees us and provides. That day on the trail taught me that God provides even when I've failed to prepare for the journey ahead. Though it seems statistically impossible, God can lead us through green pastures and across dark valleys to picnic tables prepared with a plate of food (and a cold soda) in the presence of our former enemies now-turned friends.  The trail taught me that God's "trail magic" is always a possibility and that it may be just around the bend, something more than we could have ever asked for or imagined.
Finding Holy Ground
"He led his flock beyond the wilderness and came to Horeb, the mountain of God. There the angel of the Lord appeared to him in a flame of fire out of a bush; he looked, and the bush was blazing, yet it was not consumed. Then Moses said, "I must turn aside and look at this great sight…" Exodus 3:1-3
Less than one hundred yards stood between us and a beautiful panoramic view of alpine peaks when my hiking partner, a two-time thru-hiker of the Pacific Crest Trail, stopped suddenly in the middle of the trail. Taking a few steps off the path, he placed his backpack on the ground, unzipped the top pouch and began to take out his camera. 
"Steve, what are you doing?" I asked him. "We're almost to the top!" 
By this time, Steve was sitting on the ground with his camera in hand, focused on the thorny bush in front of him. Without turning around, he motioned me to come near the bush full of thorns. "Look," he replied and pointed at the bush.  Still standing and wondering why a cluster of thorns would stop my hiking partner in his tracks, I gazed in the direction of his finger. At first I noticed nothing, but as I looked closer, I saw hundreds of tiny butterflies dancing in and around the bush. What I had perceived as a bush filled with thorns now glowed with the beauty of delicate orange wings.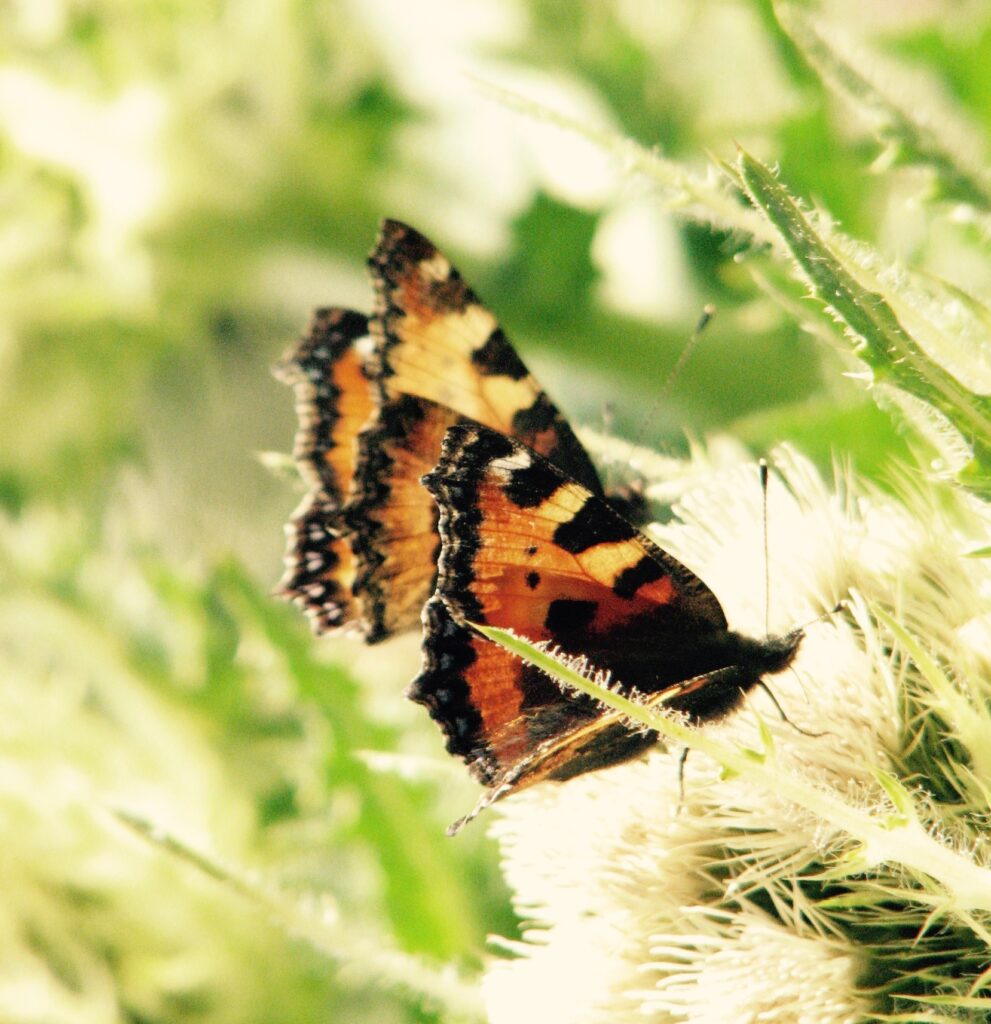 Still looking at the mass of thorns and wings in front of him, Steve said, "Michele, I know there are mountains to see just up ahead, but who made this bush?" Wondering where the conversation was going but knowing the importance of faith to Steve from previous conversations, I answered him somewhat hesitantly, "Uh…God?" 
"And who made the butterflies?" he asked. 
"God," I replied, still wondering why we were staring at a bush full of butterflies when an incredible mountain view I had looked forward to all afternoon was almost within sight.
Steve paused and looked away from the bush for a moment toward me. Then he said the following words:
"Don't you think God put as much effort into making the tiny little wings of these butterflies as the massive mountain peaks that await us at the top? Yet, who has ever stopped to appreciate this bush or the butterflies?" 
Looking at the thorn-filled branches encircled by tiny wings, I knew the answer.  I put my pack on the ground and sat down next to Steve. For half an hour, we stared at a small bush of thorns, mesmerized by the beautiful dance of tiny orange wings. 
In the book of Exodus, we discover that with the mountain of God in sight, Moses stops in his tracks to turn his gaze toward a thorny bush nearby. Upon seeing him stop and turn his gaze, God calls out to Moses. In that call, we discover that the holiest place that day lies not on top of the mountain, but rather at the base of a thorny bush aglow with the presence of God. 
My hike with Steve happened several years ago, and I confess, since then I've spent more time looking for the mountain peaks ahead than for thorn-filled bushes aflame with the tiny wings of butterflies. Yet, as I've spent the first part of this Holy Week inside staring at the non-descript bushes in front of my house, I find myself thinking of that afternoon spent with Steve as well as Moses' journey up to the mountain of God. There are times when the holiest of moments are found on top of the mountain.  The same mountain that Moses turned away from to gaze at a thorny bush would be the mountain top where God would speak to Moses and give him the Ten Commandments. Yet, there are other times, as Steve and Moses discovered, that holy ground lies not on the tops of mountains but among the thorns of everyday life. 
My afternoon hike with Steve and the story of Moses show me that we don't always have to make it to the mountain top to find the sacred presence of God. In fact, sometimes all we have to do is stop and look. Holy ground is right here.
Reflections on Midbar
Almost three hundred times, words meaning "wilderness" appear in the Bible. The Israelites knew such overgrown, uninhabited places as midbar and considered them to be desolate and barren places. In Exodus 14:11 we hear God's people cry that God has led Israel to die in the wilderness, a cry echoed again in Numbers 16:13. The midbar posed the risk of death and  and danger, a place to avoid, to survive or in the best of circumstances to be overcome and passed through as quickly as possible.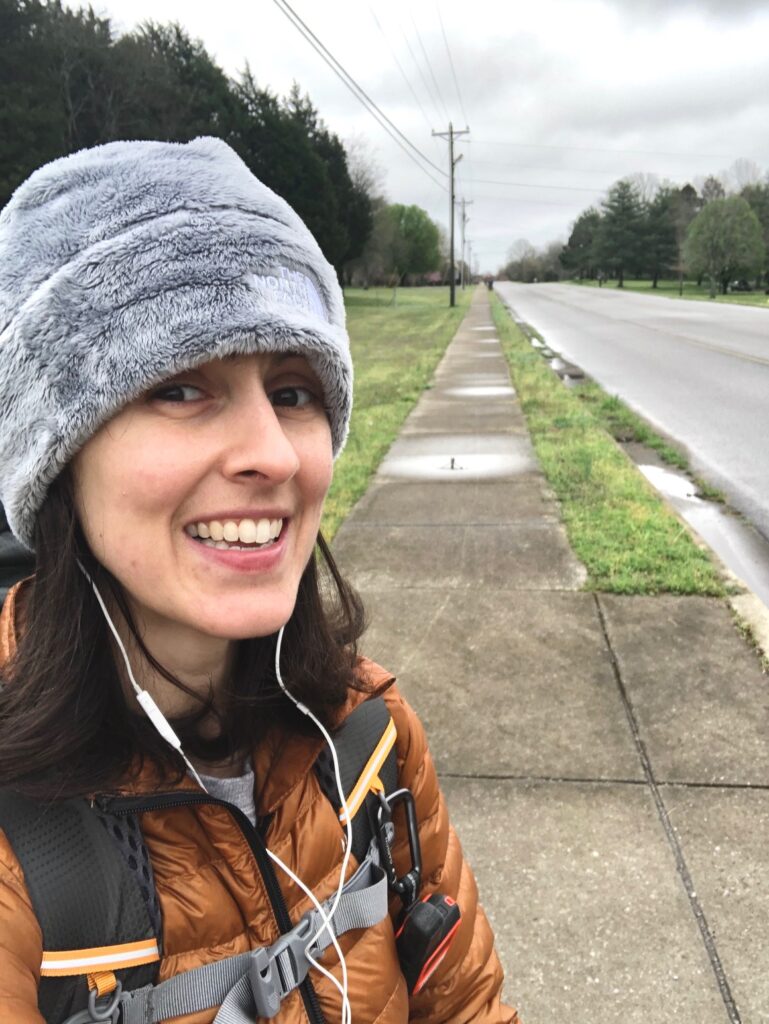 However, though the midbar could be a dangerous place full of death and desolation, we often find God's people standing on holy ground in the midst of these wild and desolate places. In the midbar, on the brink of death, the outcast mistress Hagar and her son find hope in a God who Hagar names as one who sees her (Gen. 21:14).  In the midbar we find the poor shepherd boy David finding refuge from the assassination attempts of a powerful king (I Sam 24:1).  And in the midbar, the enslaved people of God behold the fully glory of the Lord without fear of punishment (Exod 16:10). The Israelites experienced some of their most intimate and powerful encounters with God not in the middle of a flourishing city but rather in the midbar, as God's divine light guided them through the unknown wilderness, providing them food from heaven and water in the middle of a dry and barren land.
The past few weeks, many of us might have felt like we are wandering in the wilderness, traversing the unknown and dangerous landscape of a pandemic that might as if it will never end. Like the Israelites wandering through the midbar, the place which we left won't be the place to which we return to at the end. Yet, let us hope that amidst the death and desolation that we may feel in the midbar of pandemic that we also find unexpected opportunity and hope and a God who sees us and who provides even amidst the barrenness of the midbar.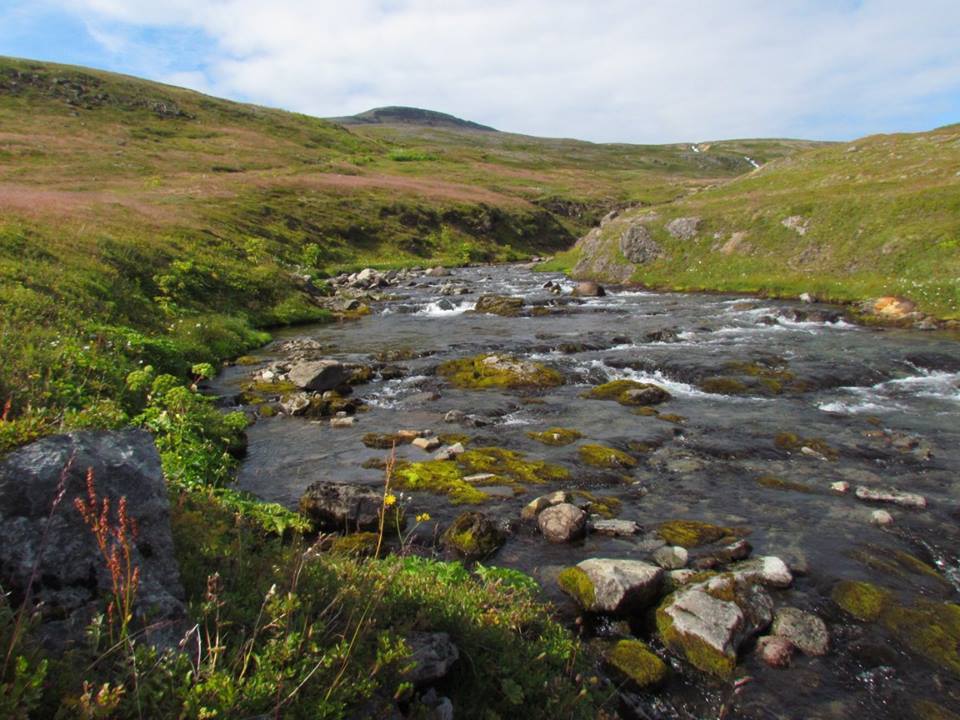 Blog posts from Gandalf and Savage – 2019
Over the whites and through the woods!
    The white mountains of New Hampshire are home to some of the most challenging terrain on the Appalachian Trail, including Mount Washington and numerous 4k summits above tree line. This year alone Mt Washington has claimed the lives of 3 people, and that number is likely to increase. It goes without saying we were nervous heading into New Hampshire knowing the whites were approaching. 
    After about five days of painfully slow hiking over exposed craggy peaks, we have made it to Pinkham Notch the northern end of the whites. We will head into the Wild Cat mountains tomorrow, which as the name implies are not tame trails either. 
    Our time on trail is beginning to feel like the experience of drawing near the end of a good book. The pages that once filled your right hand have slipped slowly to your left, and soon the back cover will close, leaving us to reflect on the story. We are extremely excited to return home, but we can sense there will be parts of the journey we will long for when daily life returns to how it used to be. We are thankful everyday for how God has provided for us, and we thank all of you who keep us in your prayers. Your encouragement and prayers keep us going each step of the way. 
Thank you,
Sincerely Gandalf, and Savage. 
Three down, three to go.
 It's been awhile since we've checked in. Since my last post we have gone off trail for my brother's wedding, finished New York, Connecticut, and Massachusetts, and have crossed into Vermont! 
    In all this I have thought a lot about why we are out here. Some people call hiking the trail, a vacation, a challenge, an adventure. I tend to think about it as a pilgrimage. It is a journey of spiritual and personal growth. 
   The trail and our life back home have a lot in common, as different as they may seem from one another. In both we can feel a sense of our final destination, our end goal, but simultaneously a lack of direction, a struggle to connect to a deeper meaning. However God reminds us of why we're here if we are attentive to his spirit. Sometimes its through the kindness of strangers, or the miraculous need met at just the right moment, as in life and the trail, God is walking with us in everything. 
    We are heading into the finale three states. I'm excited, nervous, and a lot of other emotions all at the same time. Maine seems so far but so close, and therefore there is a challenge for us to be present in the here and now, while also anticipating the future. We are so excited thankful for what God has done so far, and we look forward to what's next. Please continue to keep us in your prayers, they help us every step of the way!
Rocks, Rocks and Socks
   We have made it to New York! New Jersey, and the rocks of Pennsylvania are finally behind us. After a few miles we can look back on our time in northern PA, and be thankful that we don't have to take those steps again, and that we made it through safely. 
     To tell you a little about our time in Pennsylvania would be best to describe the different shapes, sizes, and varying levels of sharpness a rock can have. However that's not too exciting, so I will invite you to use your imagination to envision our experience of days on end hiking over all varieties of rocks. 
     This became a good time to work on both ankle strength, and an attitude of thankfulness, even in less than ideal situations. Pennsylvania really was beautiful, even with its challenges, and I am truly grateful we made it through safely. Although, there was one minor tragedy, I seemed to have left my brand new socks somewhere amongst the rocks, for some fortunate hiker, or bear who now has cozy feet. 
     New Jersey passed without much trouble, it was really a nice break from what northern PA threw at us. We saw over five bears, and ate handfuls of wild blueberries. It is really beginning to set in that we are far from home, as accents change, and the ever present reality that New York City is only a few miles away. 
    We met up with some old friends we haven't seen on trail in awhile, and had good talks about Jesus, and his love for everyone. It's been truly a challenging, and rewarding few weeks. I look forward to keeping you posted as we head further into New England. As always, thanks for your prayers and support, they keep us going each day.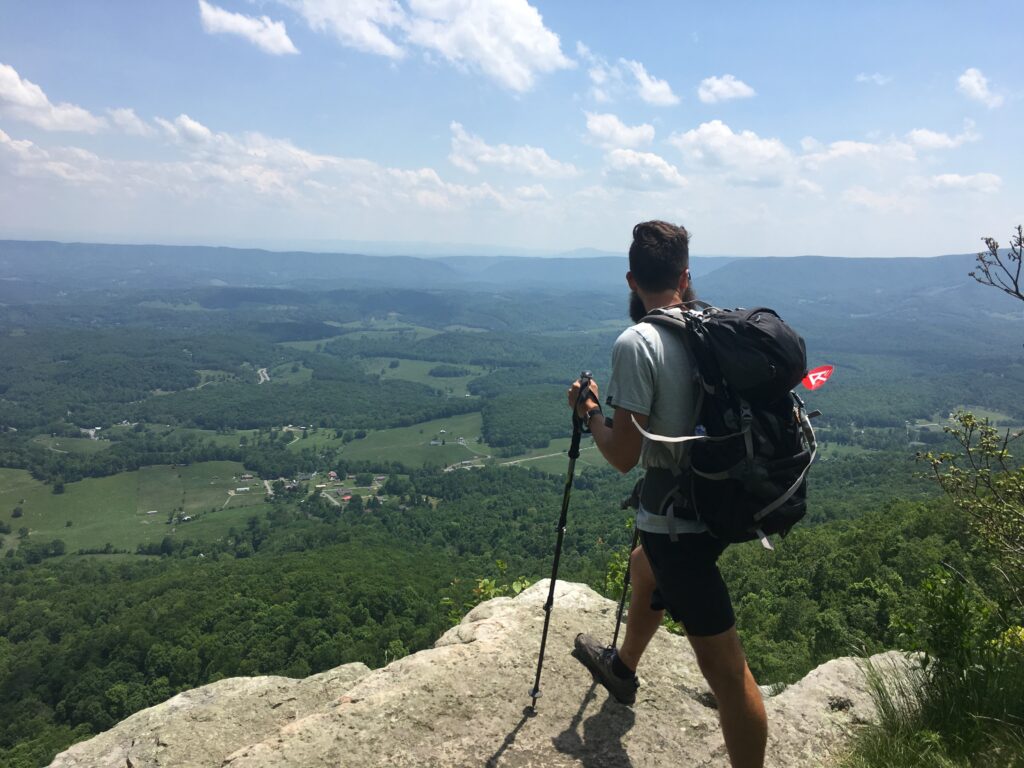 Only half way?
This week we reached the halfway point on the trail, somewhere near Pine Furnace PA. This is both a time to celebrate, as well as eat a half gallon of ice cream, as is tradition amongst thru hikers. So, with a nauseatingly full stomach, and a little over a thousand miles to go, our thoughts about the journey to come fill our heads. 
      The last few days it's felt like we were both only half way to Katahdin, and then again already half way finished. It's the glass half full scenario, but it seems like  less of a mental choice than an outlook shaped by the terrain of the trail. Going up hill one more time is enough to make you wonder if we really can do this for another 1000 miles. But, when you coast into town for a hot meal, or we see some new animal on trail, it feels like we never want it to end. 
    This has lead me to think, it's hard to be solely an optimist or a pessimist on trail, and maybe in life. Instead of seeing the glass half this or that, we can acknowledge sometimes it feels like we don't have enough, or it's too hard, and other times we are truly blessed. But, we can recognize both ways of seeing things are just part of the journey, and being thankful that we get to experience them  both, full and empty, is important wherever we are. Because, the bitter reminds us of the sweet, and as my stomach that is packed full of 4000 calories of ice cream can attest, too much sweet can sometimes not be so great. 
Thanks for all your support and prayers they help us each day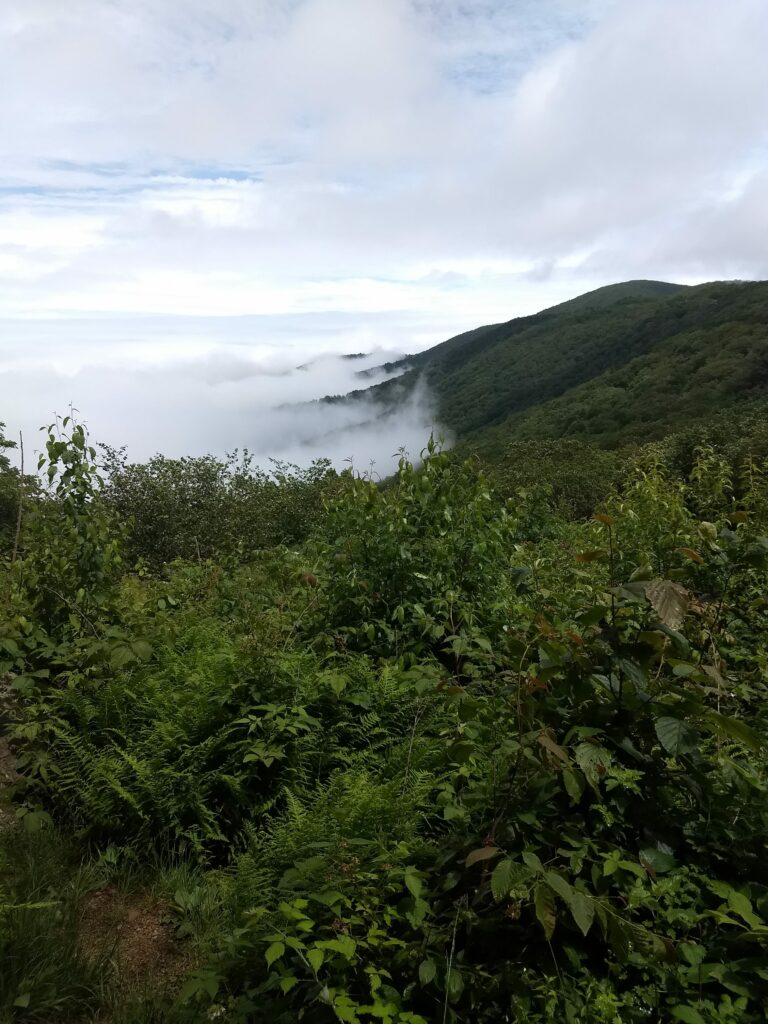 Providence not Rhode Island.
Virginia has been a long, rough, and incredibly uplifting section of the trail. We have had our food eaten by a bear, our gear soaked by rain, and loving people help us more ways than we can count. We passed mile 900, and this week we will be passing into Harpers Ferry, the "half way" point of the trail. We have been blessed to have people help us when our food was taken by a bear, people welcome us into their homes, and God remind us along the way that even though things get tough he is still providing what we need. 
Each day on the trail teaches us to be thankful for the little things, hot showers, warm meals, and  love from others. Sometimes we feel overwhelmed by how hard walking twenty miles in the rain can be, but we then are simultaneously overwhelmed by God's love shown through others. We are so grateful for each and every person who has helped us along the way. 
I would like to invite you to reach out to those who may be in need around you this week, remember small acts of kindness can make big impacts. 
As always thanks for your support and prayers, they help us each day.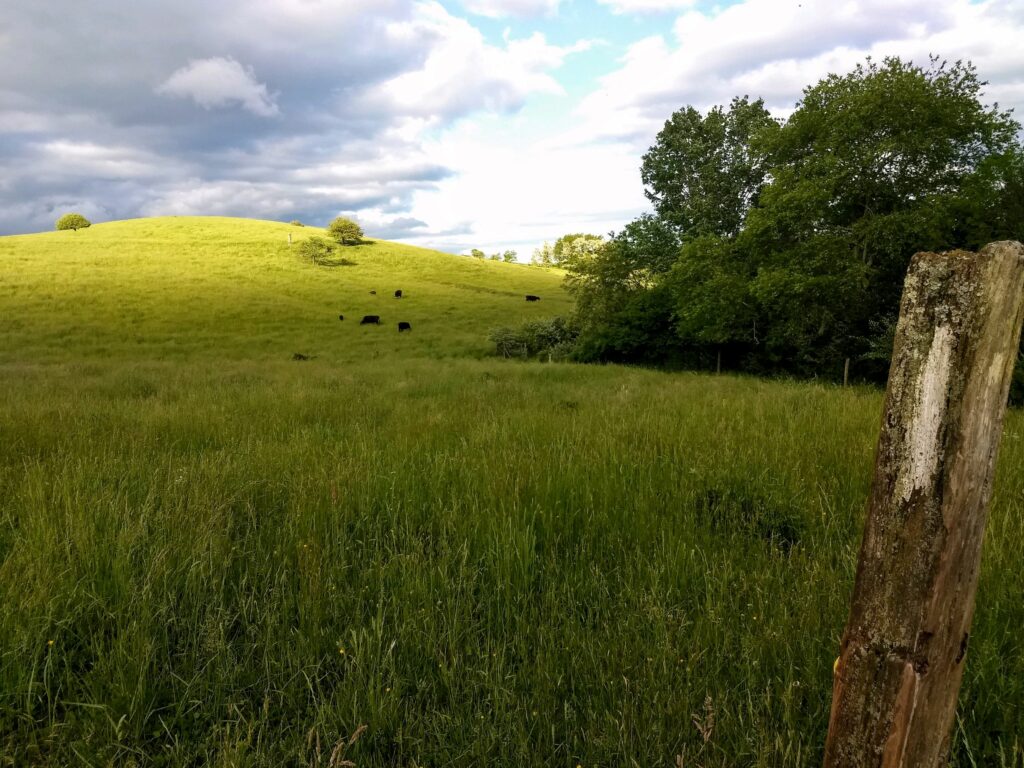 John 1:5
"The light shines in the darkness, and the darkness has not overcome it."
    Many of you are already aware of last week's tragedy which left one hiker dead, and another seriously injured. What happened has affected the whole hiking community, and has brought confusion and fear to many of us on the trail. In an environment where there is a lot of love, compassion, and encouragement, what happened feels like having the breath knocked out of you. 
    This tragedy is not where the story ends, it never is. If this week has shown us one thing, it's that the Light of the world is still shining. Immediately after the shock of hearing what happened the collective question on trail has been, what can we do to help? From fundraising to messages of encouragement, the trail moved to help those affected by what happened.
    While it's easy to dwell in the darkness, those serving in this ministry have shown us an alternate path. From food, to rides and opening up their homes,  we have been cared for by so many wonderful people this past week. It's this light that shines in the darkness, the light of Christ shining through his people, that the darkness will not overcome.
Special thanks to Alan, Mary, Valerie, Tony, Mariette, David, and everyone involved in the ATOM ministry for your love and support this week. 
Thanks for your prayers, please take a moment now to pray for those affected by what happened this week. You all make this journey possible, thank you!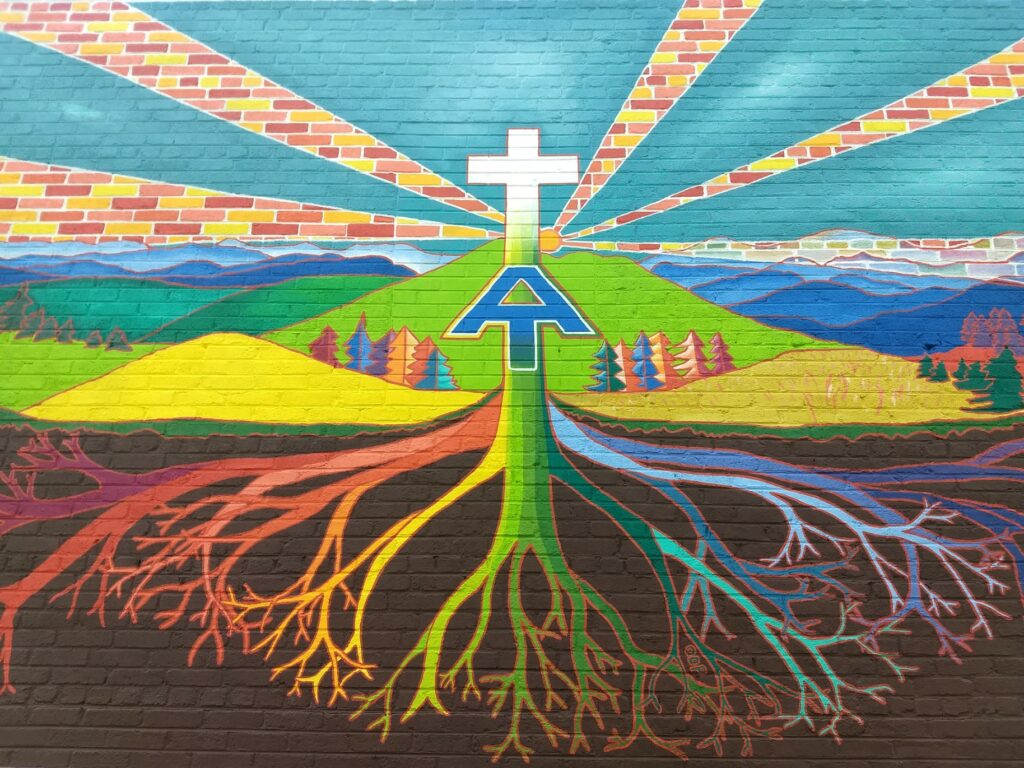 4/7/19
Busy
We have to filter our water on the trail. Although I once saw a washing machine in the woods, it turns out there isn't running water out there. While getting water one day I noticed these strange bugs on the surface of the water darting in every direction, non stop back and forth. I began to think, "what are they doing?" They went on without ceasing the whole time I watched them. 
I thought this must look like our lives often do to God, frantic movement nonstop with little to no real reason behind it. We feel like this busyness is essential for our lives, but with a view from afar does it really make any sense? 
Being on the trail seems like a great time to slow your pace, take time and focus on our relationship with others and God, but it's so easy to stay busy. To focus on the miles, the logistics, the final destination. This seems to be a carryover from our "real" lives, but maybe there is another way. Jesus calls us to not worry about tomorrow, and I would like to spend more time practicing this discipline, and I would invite you to do the same. 
Thank you for your prayers, they give us strength, and help us every step of the way.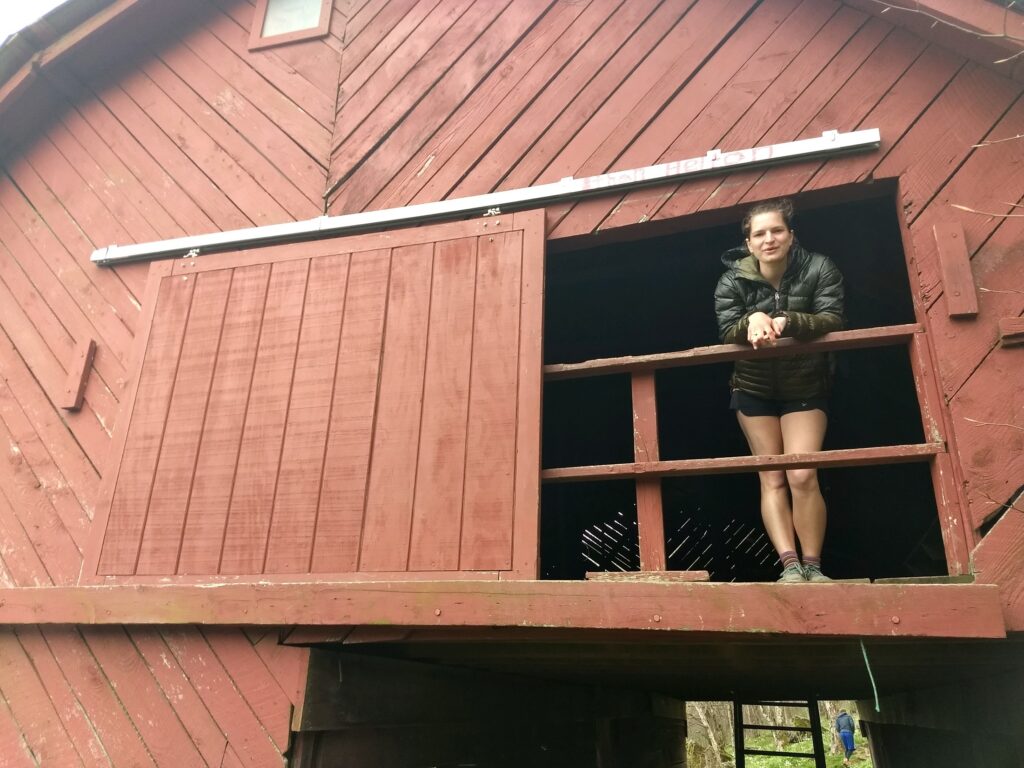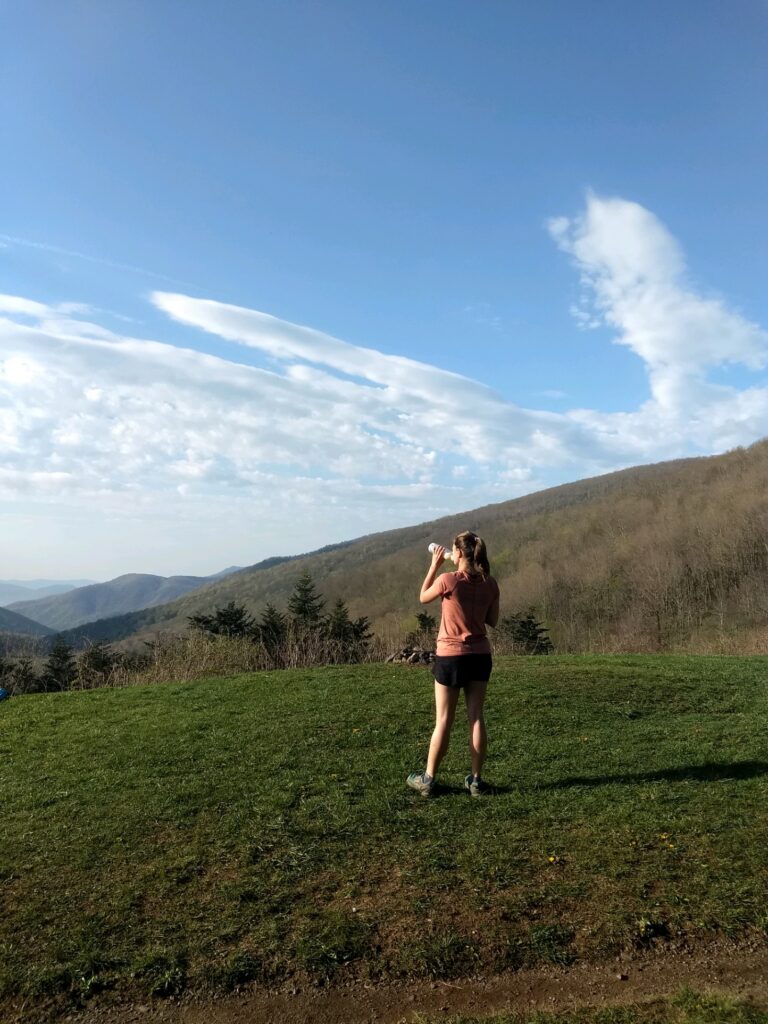 May 1, 2019
Mile 395
We have a lot of time to think on the trail, I often find my mind wondering to what's next after the trail. It's insane that this is what I have become preoccupied with, because I have spent months before the trail thinking solely of beginning our hike. 
This isn't an unusual pattern for me, and I imagine others as well. It's so easy to only think about the future, and in doing that miss out on the beauty around us. I can feel God showing me that I need to grow in this area, to open my eyes, and live in the here and now. 
This week we stayed at one of the most beautiful shelters on trail, the Overmountain Shelter. Below us in the valley it appeared as if Bob Ross and God teamed up to paint the most incredible spring vista we've seen so far. If I had been in my usual state of mind of thinking only about what's next I could have glossed right over this view. However I have been praying for help to focus on the now, and I have felt God working to change that. I invite you this week to focus on the now, the small things, and in so doing you will be pleasantly surprised to see God moving in incredible ways. 
Thanks for your prayers they help us on each step of the way. 
April 22, 2019
Mile: 320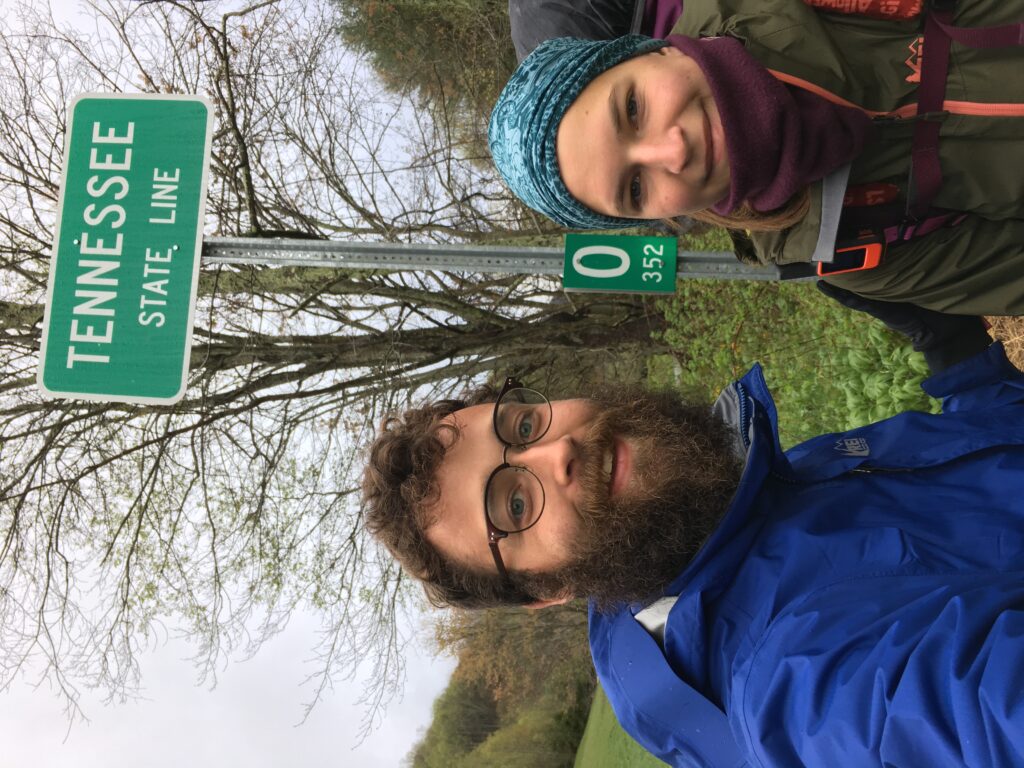 April 14, 2019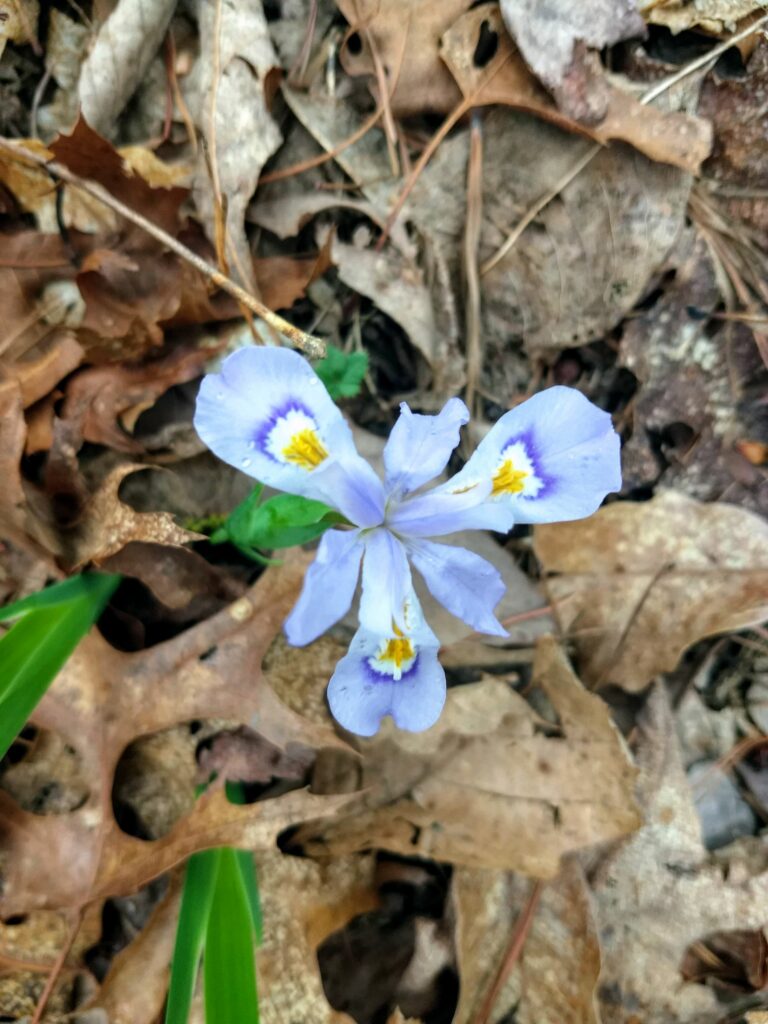 Alone 
    We have passed through the Smokies, and we are now spending a few days with Kalie's family. We are thankful to have time to relax and reflect on our time on the trail so far. We both are so thankful for the love, support, and prayers of everyone who has helped us this far on the journey. Truly, we could not have made it this far without a community of support.                       Honestly, no one can make it on the Appalachian Trail by themselves, or in their walk with Jesus. We are called to walk together through the ups and downs of life. We can also take comfort in the fact that Jesus walks with us, and has created a community in the church that we can walk with through the celebrations, and challenges of life. Those who think they can go it alone, have simply forgotten that many people have walked the path ahead of us, preparing the way for those who now walk on the path of the Appalachian trail, and of Faith. 
Please keep us in your prayers, they give us strength, and help us in our journey. 
April 9, 2019
Mile 109 – 207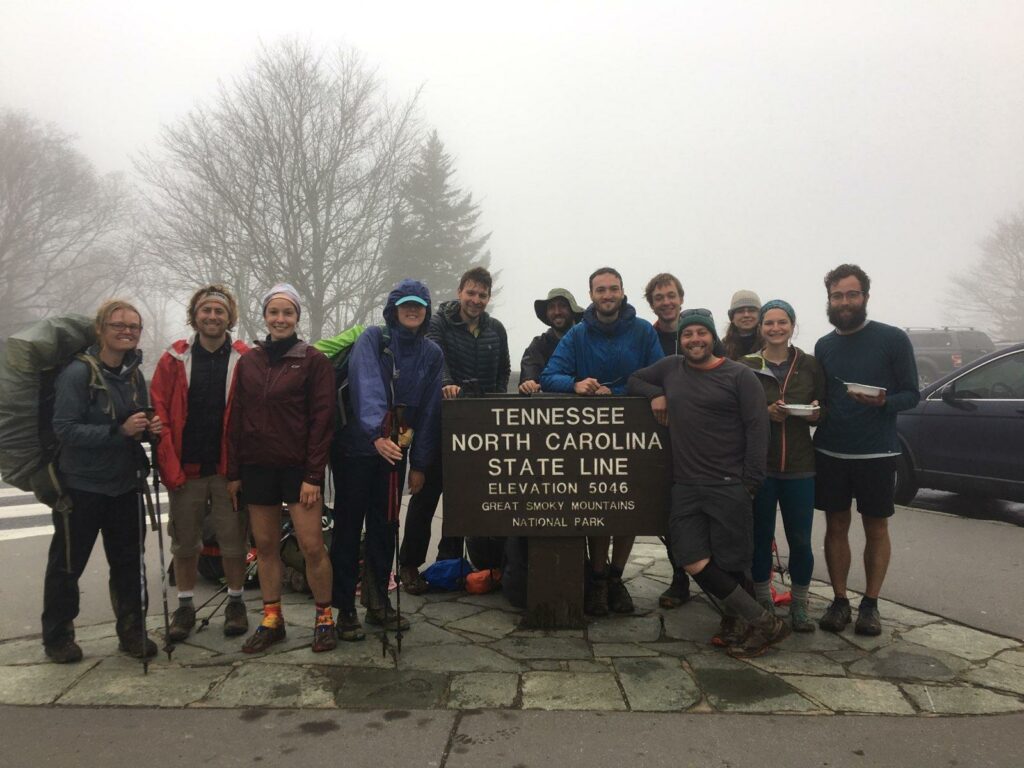 March 30, 2019
Mile 69-109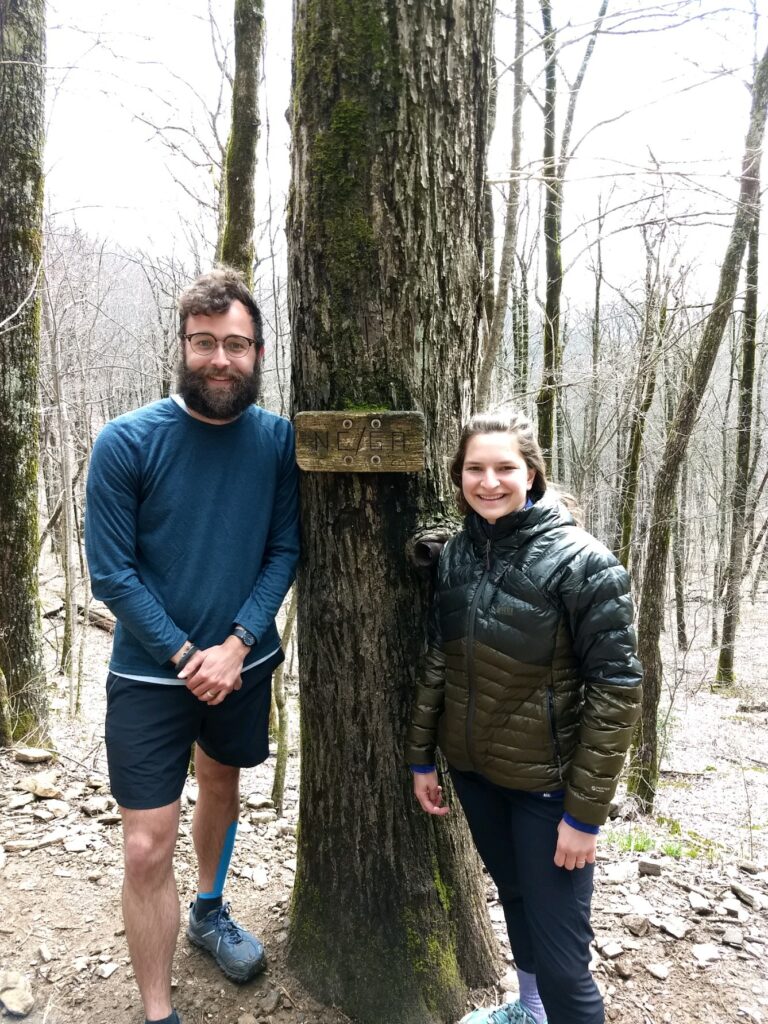 We have reached 100 miles!! We are so thankful for your support and prayers. Jesus says in Mark 6:26, that God takes care of the birds and the flowers, and he will watch over us, and to not worry about anything. While on the trail it's difficult to remember to not worry, but God has provided for us in things both big and small. We have had beautiful weather, plenty of water, and fantastic friends throughout our journey. Each day we are reminded to trust God, and we have seen how he provides for the birds of the air, the flowers of the fields, and for his children on the trail. 
Keep us in your prayers, they give us strength, and are helping us in our journey.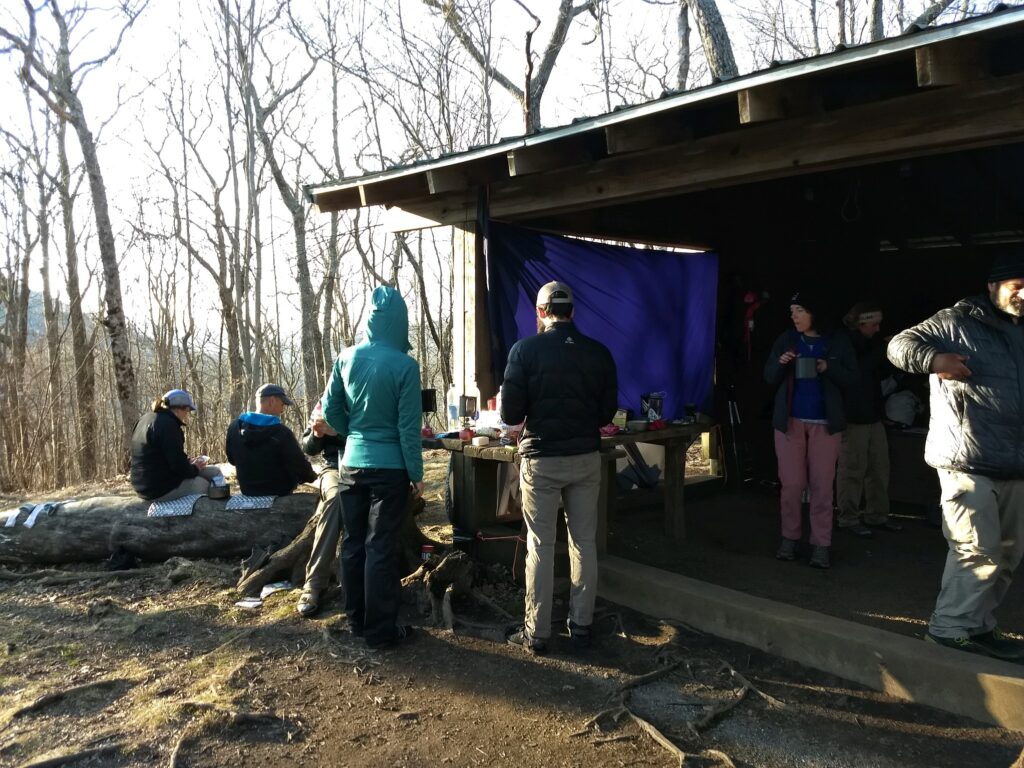 March 25, 2019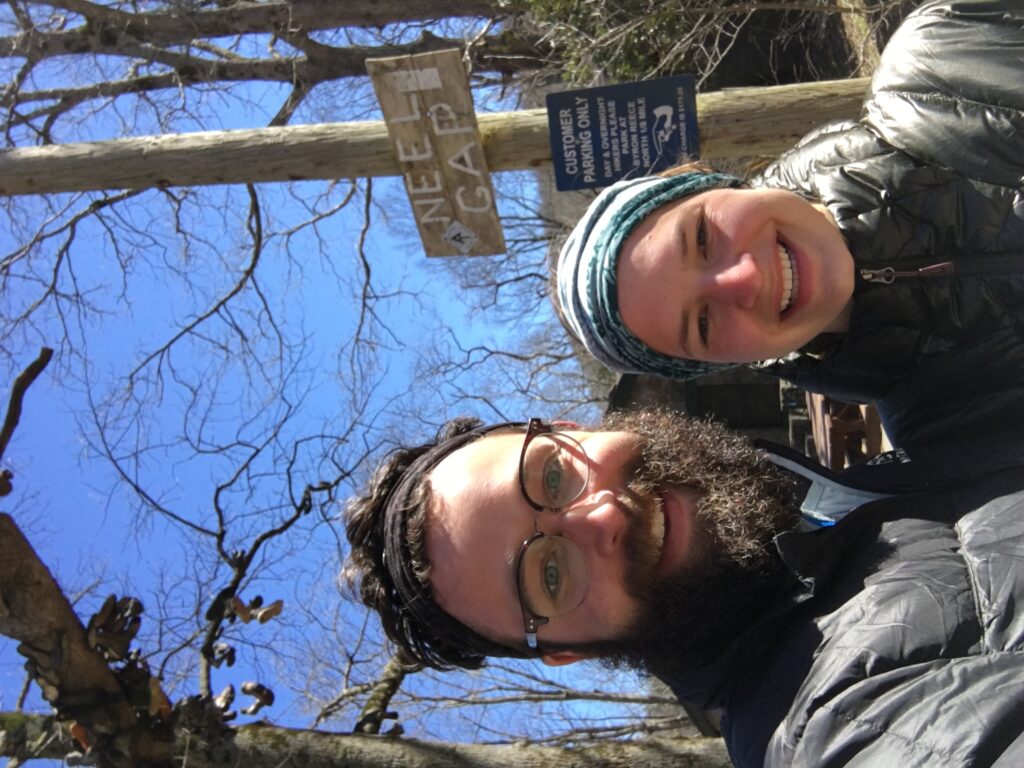 Mile 31.3 – 69.2 
We have made it to Hiawassee!! We did more miles per day this section and we are both feeling it. The last few days have been both incredible and challenging. We have met so many incredible people, and we have experienced our first "trail magic" (acts of kindness on the trail from non hikers, usually in the form of food). We have also had our first day of rain as we came into town. We have been able to have great conversations with the people we have met along our journey, and each day we get to see a little more of God's good creation. Keep us in your prayers, they help us continue our journey.
March 22, 2019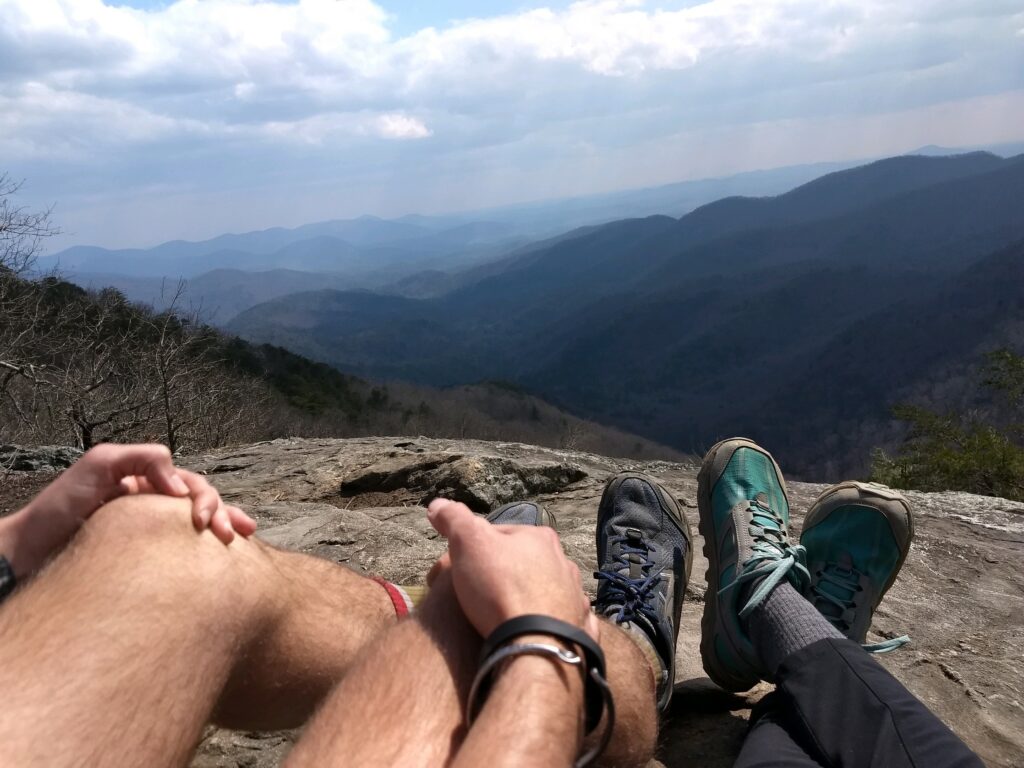 In The Beginning
We started at Amicalola falls on Monday, and we have just arrived at Neel Gap this Friday afternoon. In this short period of we have already experienced incredible kindness from strangers, who now are called friends. We have seen God provide throughout our time on the trail, in the people we have met, and in the beauty we have seen. We are excited to continue our journey of community, growth, and faith. We still have a long way to go but we are thankful for this beginning.
Thank you for your prayers and support, it truly keeps us going each day. 
March 16, 2019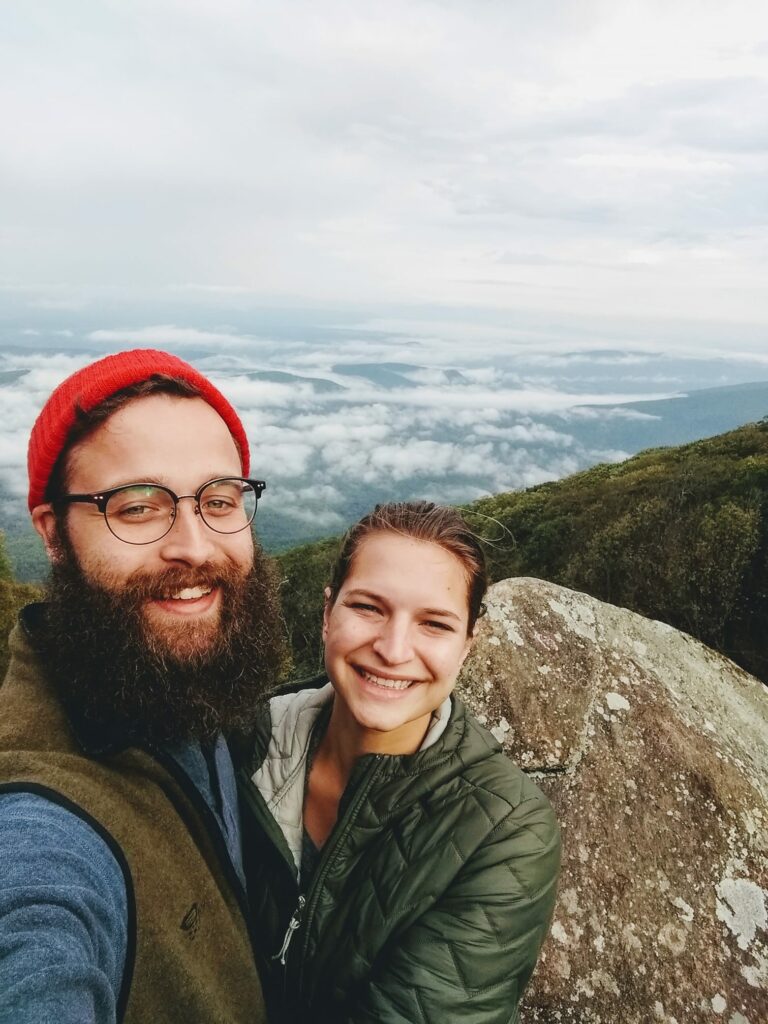 Hello everyone, we are Kalie and Garrett Hammonds. For those of you who may not know us yet we are blessed to be working with the Holston Conference as circuit hikers on the Appalachian trail. We are thru hiking heading north from Springer Mountain Georgia to Maine. We are both from Tennessee, and love hiking, camping, and anything outside.
To keep this relatively short, we are staring the trail this Monday the 18th!! And we are both very excited to see how God shows up during our time on the trail. We look forward to hearing from you all, and please keep an eye on this page, as well as the Chaplain Facebook page for updates!