April 2019 Hiking SouthBound Max Patch to Double Springs Shelter in 5 days of pouring rain, then snow, then raining ice, then spring sunshine. The trail continues to be a place for people to come for challenge, growth and renewal. The danger of high waters was brought home with a fall in a swollen river while crossing—grabbing a log, I didn't have time to process next actions before two hikers rescued me. This is who we are to each other in the world—Love, Rescue, Challenge, Serve, Joy. This is my YouTube. https://www.youtube.com/watch?v=KoIMTHjU_2o&t=9s
I hope you enjoy the music of Sturgill Simpson "Just Let Go"
"Woke up today and decided to kill my ego
It ain't ever done me no good no how….
Am I dreaming? Am I dying?
Either way I don't mind at all
Oh, it feels so good you just can't help but crying
Oh, you have to let go so the soul may fall
Oh my God, it's so beautiful
Everything is a part of me
It's so hard looking through all the lies made of wool
But if you close your eyes it becomes so easy to see."
January 30, 2019
I am looking forward to continuing in the 2019 season as an AT Circuit-Hiker Chaplain! This year the AT Chaplaincy will have the Thru-Hiker Chaplain "Chappy Jack". And we will add two thru-hikers Garrett & Kalie serving as Circuit-Hiker Chaplains during the time that they traverse the Holston Conference of the United Methodist Church.
I am also looking back to review the previous year. It was an amazing experience to serve as a chaplain. Sept-Dec was spent training with a fantastic group in the chaplaincy program of U of TN Medical Center. I snuck in two chaplaincy hikes in that time. One to see the Thru-Hiker chaplain Minta "Blueberry" as she passed through NC. http://<iframe src="https://www.facebook.com/plugins/post.php?href=https%3A%2F%2Fwww.facebook.com%2FMPalmerC%2Fposts%2F10156546816216063&width=500″ width="500″ height="688″ style="border:none;overflow:hidden" scrolling="no" frameborder="0″ allowTransparency="true" allow="encrypted-media"></iframe>
On the November hike, I learned the valuable lesson of "Being Present AND Changeable". WE and Puddles paused on the trail to share their story—one of loss, of love, of friendship, of change. After leaving them, I decided I should have left the trail to help them. Running after them with a full pack was an unwise response to that. Tripping and hurting my knee was the natural consequence to the unwise response. The blessing of correspondence from both WE and Puddles has healed the spiritual pain, and the lesson of being more open to options is a valuable one.
Finally, I want to share my August Maine hike you-tube with the wonderful music of Jason Mraz, and the timeless lesson "Love Is Still the Answer".
https://www.youtube.com/watch?v=dMx-HpQRNbI&feature=youtu.be&fbclid=IwAR1WgEau-6gtGsIcoQYfMnnxG4C4ZwSGlVfr3TsqvmT9OgET9p8O9Qy8Nb4
While a chaplain is non-denominational supporting the spiritual needs of the person at that time, the ministry is supported by the UMC. You can support this vital outreach to people on the AT journey with a check to Holston Conference. Please write "Appalachian Trail Chaplaincy" on the memo line.P.O. Box 343
Walland, TN 37886

Peace on Your Journey. May it be Everything you Hope for. And the More that you Need.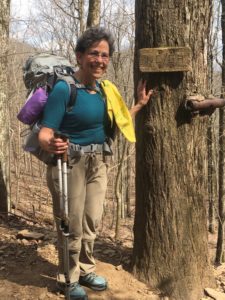 Mary Palmer is the 2018 Appalachian Trail Circuit Hiker. Check out videos detailing Dr. Mary's journeys.
The AT Chaplaincy's circuit hiker, Mary Palmer (Trail name: Dr. Mary), has produced a lovely video detailing her May 2018 circuit hike. Take a look and be inspired by God's creation and see Dr. Mary in action as she offers foot care to those she meets along the journey.
July 26, 2018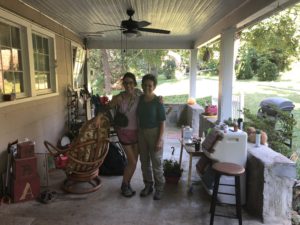 The last night of my 4th trip I spent at a hiker hostel Open Arms at the Edge of Town in Luray, VA. There I was greeted by Grateful, who was part of a magical night at Tricorner Knob in GSMNP. When I entered the shelter, I broadcast to the 14 or so hikers, refugees from 20 days of chill and rain, that I was there to do trail magic with foot massages. (Rule no 1: Get over yourself, and say why you are there.) Grateful yelped that she had not gotten any trail magic yet! She kept arriving in time to hear "They were just serving burgers and beer, but they're gone." And they were just saying how bad their feet looked and felt. And she couldn't get up because her back hurt. I massaged her feet—and her back—with the oil that I carry. And then nearly every other hiker in the crowd had feet done. Each hiker's story is compelling, and the evening passed quickly, jazz guitarist Strings playing all the while. I was hoping for group singing. ("joyful noise" is a favorite verse.) But there wasn't time; it was getting quiet, so I snuck in the jazz lullaby "Dream A Little Dream". The next day, Grateful was up and gone early. All were soon on their ways. But that shelter crowd has lingered in my thoughts.
So on this new special evening in VA, Grateful shared what news that she had of all those hikers and their paths—attending to loved ones off the trail, preserving through lack of time and money, some way in front of her, some behind. Then she said that she spent the morning after our magic night crying as she hiked, filled with the joy and sustenance that she gained in the shelter and the massage. And by that evening, her back pain was gone. Grateful said she kept telling herself, "There's something about Mary" (yeah, it's a movie, haha). What I want to add is this: There really is something about Love and God. This can sustain us in our journeys. I am grateful that I got to share that full circle with you.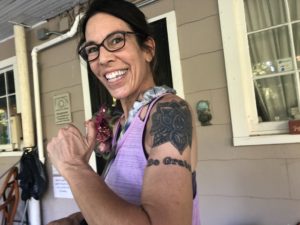 July 21, 2018:
Just back from my 4th trip on the AT which was included reunions with hikers I had met previously this year! These photos are from my first night where I found DJ at Whiskey Hollow shelter. We first met at Top of Georgia Hostel in March.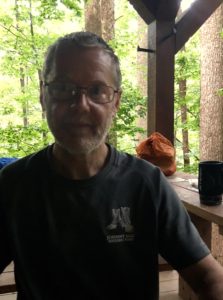 DJ shared with me that he is hiking for the Johnny Mac Soldiers Fund. This raises money to support the educational needs of veterans and families, particularly children of fallen soldiers. DJ is retired military as are many on the AT this and every year. Please consider this worthy cause. http://www.johnnymac.org
https://www.crowdrise.com/o/en/campaign/dons-appalachian-trail-hike-for-the-johnny-mac-soldiers-fund/donaldfallin