Over the whites and through the woods!
The white mountains of New Hampshire are home to some of the most challenging terrain on the Appalachian Trail, including Mount Washington and numerous 4k summits above tree line. This year alone Mt Washington has claimed the lives of 3 people, and that number is likely to increase. It goes without saying we were nervous heading into New Hampshire knowing the whites were approaching.
After about five days of painfully slow hiking over exposed craggy peaks, we have made it to Pinkham Notch the northern end of the whites. We will head into the Wild Cat mountains tomorrow, which as the name implies are not tame trails either.
Our time on trail is beginning to feel like the experience of drawing near the end of a good book. The pages that once filled your right hand have slipped slowly to your left, and soon the back cover will close, leaving us to reflect on the story. We are extremely excited to return home, but we can sense there will be parts of the journey we will long for when daily life returns to how it used to be. We are thankful everyday for how God has provided for us, and we thank all of you who keep us in your prayers. Your encouragement and prayers keep us going each step of the way.
Thank you,
Sincerely Gandalf, and Savage.
Three down, three to go.
It's been awhile since we've checked in. Since my last post we have gone off trail for my brother's wedding, finished New York, Connecticut, and Massachusetts, and have crossed into Vermont!
In all this I have thought a lot about why we are out here. Some people call hiking the trail, a vacation, a challenge, an adventure. I tend to think about it as a pilgrimage. It is a journey of spiritual and personal growth.
The trail and our life back home have a lot in common, as different as they may seem from one another. In both we can feel a sense of our final destination, our end goal, but simultaneously a lack of direction, a struggle to connect to a deeper meaning. However God reminds us of why we're here if we are attentive to his spirit. Sometimes its through the kindness of strangers, or the miraculous need met at just the right moment, as in life and the trail, God is walking with us in everything.
We are heading into the finale three states. I'm excited, nervous, and a lot of other emotions all at the same time. Maine seems so far but so close, and therefore there is a challenge for us to be present in the here and now, while also anticipating the future. We are so excited thankful for what God has done so far, and we look forward to what's next. Please continue to keep us in your prayers, they help us every step of the way!
Rocks, Rocks and Socks
We have made it to New York! New Jersey, and the rocks of Pennsylvania are finally behind us. After a few miles we can look back on our time in northern PA, and be thankful that we don't have to take those steps again, and that we made it through safely.
To tell you a little about our time in Pennsylvania would be best to describe the different shapes, sizes, and varying levels of sharpness a rock can have. However that's not too exciting, so I will invite you to use your imagination to envision our experience of days on end hiking over all varieties of rocks.
This became a good time to work on both ankle strength, and an attitude of thankfulness, even in less than ideal situations. Pennsylvania really was beautiful, even with its challenges, and I am truly grateful we made it through safely. Although, there was one minor tragedy, I seemed to have left my brand new socks somewhere amongst the rocks, for some fortunate hiker, or bear who now has cozy feet.
New Jersey passed without much trouble, it was really a nice break from what northern PA threw at us. We saw over five bears, and ate handfuls of wild blueberries. It is really beginning to set in that we are far from home, as accents change, and the ever present reality that New York City is only a few miles away.
We met up with some old friends we haven't seen on trail in awhile, and had good talks about Jesus, and his love for everyone. It's been truly a challenging, and rewarding few weeks. I look forward to keeping you posted as we head further into New England. As always, thanks for your prayers and support, they keep us going each day.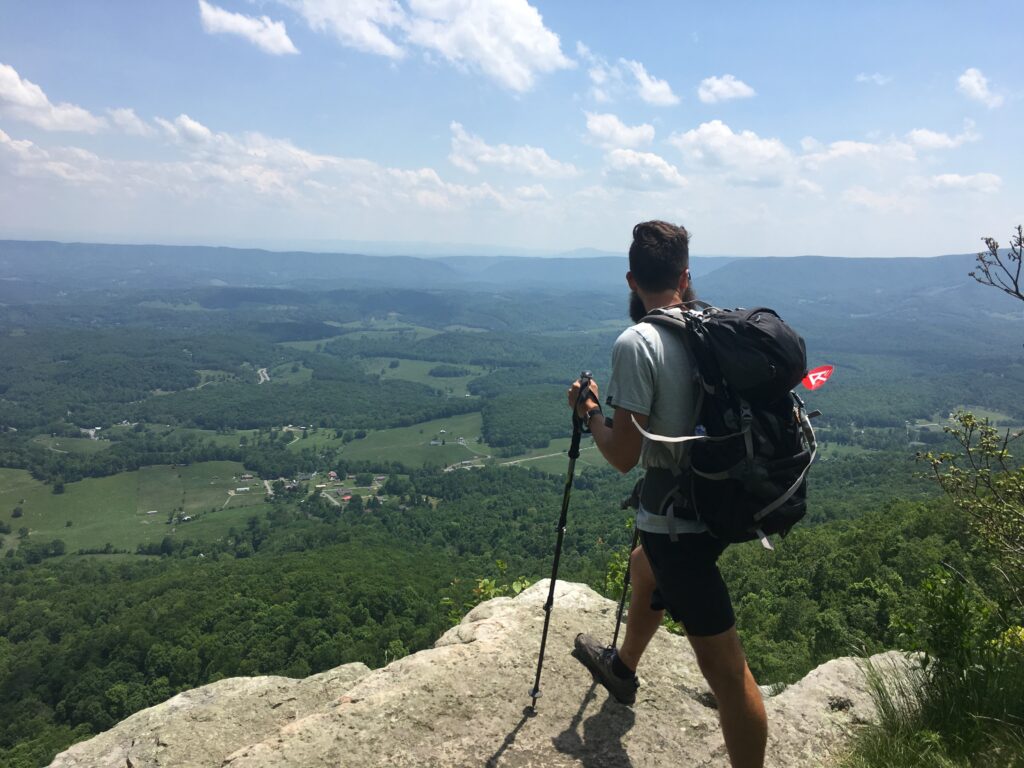 Only half way?
This week we reached the halfway point on the trail, somewhere near Pine Furnace PA. This is both a time to celebrate, as well as eat a half gallon of ice cream, as is tradition amongst thru hikers. So, with a nauseatingly full stomach, and a little over a thousand miles to go, our thoughts about the journey to come fill our heads.
The last few days it's felt like we were both only half way to Katahdin, and then again already half way finished. It's the glass half full scenario, but it seems like less of a mental choice than an outlook shaped by the terrain of the trail. Going up hill one more time is enough to make you wonder if we really can do this for another 1000 miles. But, when you coast into town for a hot meal, or we see some new animal on trail, it feels like we never want it to end.
This has lead me to think, it's hard to be solely an optimist or a pessimist on trail, and maybe in life. Instead of seeing the glass half this or that, we can acknowledge sometimes it feels like we don't have enough, or it's too hard, and other times we are truly blessed. But, we can recognize both ways of seeing things are just part of the journey, and being thankful that we get to experience them both, full and empty, is important wherever we are. Because, the bitter reminds us of the sweet, and as my stomach that is packed full of 4000 calories of ice cream can attest, too much sweet can sometimes not be so great.
Thanks for all your support and prayers they help us each day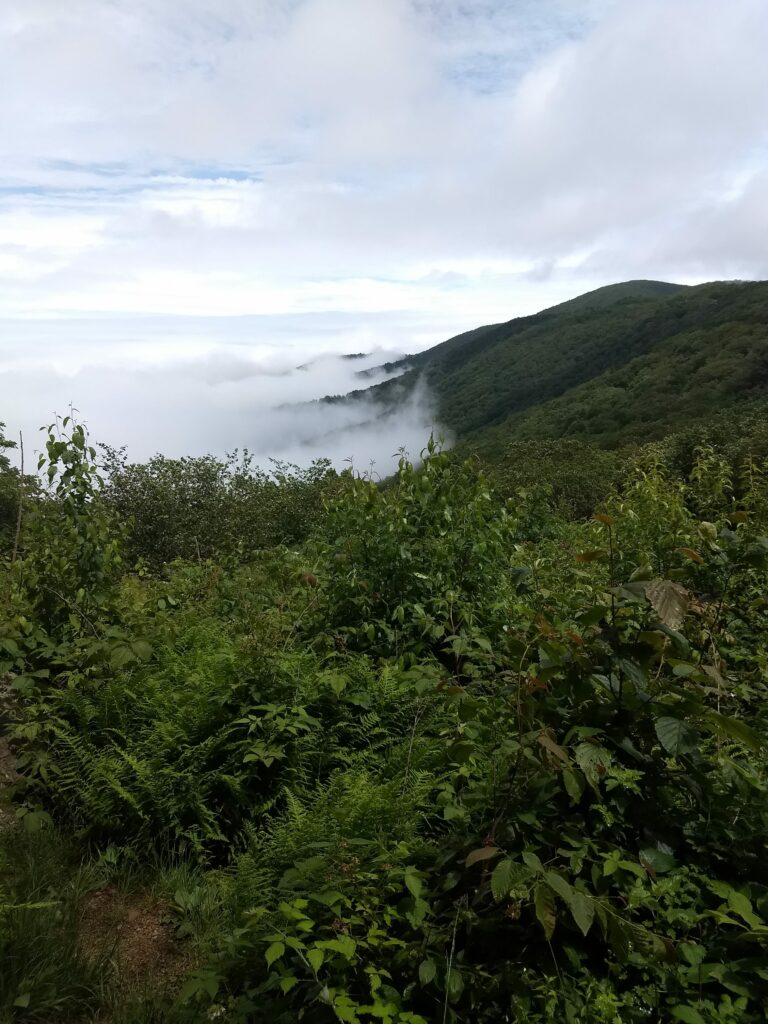 Providence not Rhode Island.
Virginia has been a long, rough, and incredibly uplifting section of the trail. We have had our food eaten by a bear, our gear soaked by rain, and loving people help us more ways than we can count. We passed mile 900, and this week we will be passing into Harpers Ferry, the "half way" point of the trail. We have been blessed to have people help us when our food was taken by a bear, people welcome us into their homes, and God remind us along the way that even though things get tough he is still providing what we need.
Each day on the trail teaches us to be thankful for the little things, hot showers, warm meals, and love from others. Sometimes we feel overwhelmed by how hard walking twenty miles in the rain can be, but we then are simultaneously overwhelmed by God's love shown through others. We are so grateful for each and every person who has helped us along the way.
I would like to invite you to reach out to those who may be in need around you this week, remember small acts of kindness can make big impacts.
As always thanks for your support and prayers, they help us each day.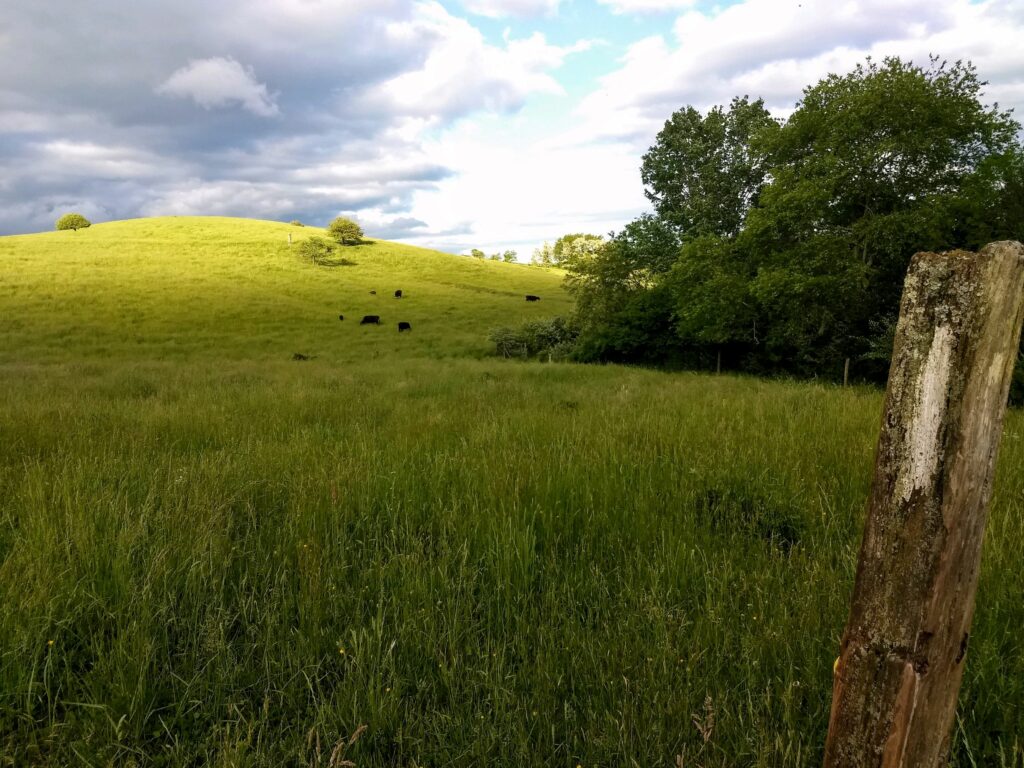 John 1:5
"The light shines in the darkness, and the darkness has not overcome it."
Many of you are already aware of last week's tragedy which left one hiker dead, and another seriously injured. What happened has affected the whole hiking community, and has brought confusion and fear to many of us on the trail. In an environment where there is a lot of love, compassion, and encouragement, what happened feels like having the breath knocked out of you.
This tragedy is not where the story ends, it never is. If this week has shown us one thing, it's that the Light of the world is still shining. Immediately after the shock of hearing what happened the collective question on trail has been, what can we do to help? From fundraising to messages of encouragement, the trail moved to help those affected by what happened.
While it's easy to dwell in the darkness, those serving in this ministry have shown us an alternate path. From food, to rides and opening up their homes, we have been cared for by so many wonderful people this past week. It's this light that shines in the darkness, the light of Christ shining through his people, that the darkness will not overcome.
Special thanks to Alan, Mary, Valerie, Tony, Mariette, David, and everyone involved in the ATOM ministry for your love and support this week.
Thanks for your prayers, please take a moment now to pray for those affected by what happened this week. You all make this journey possible, thank you!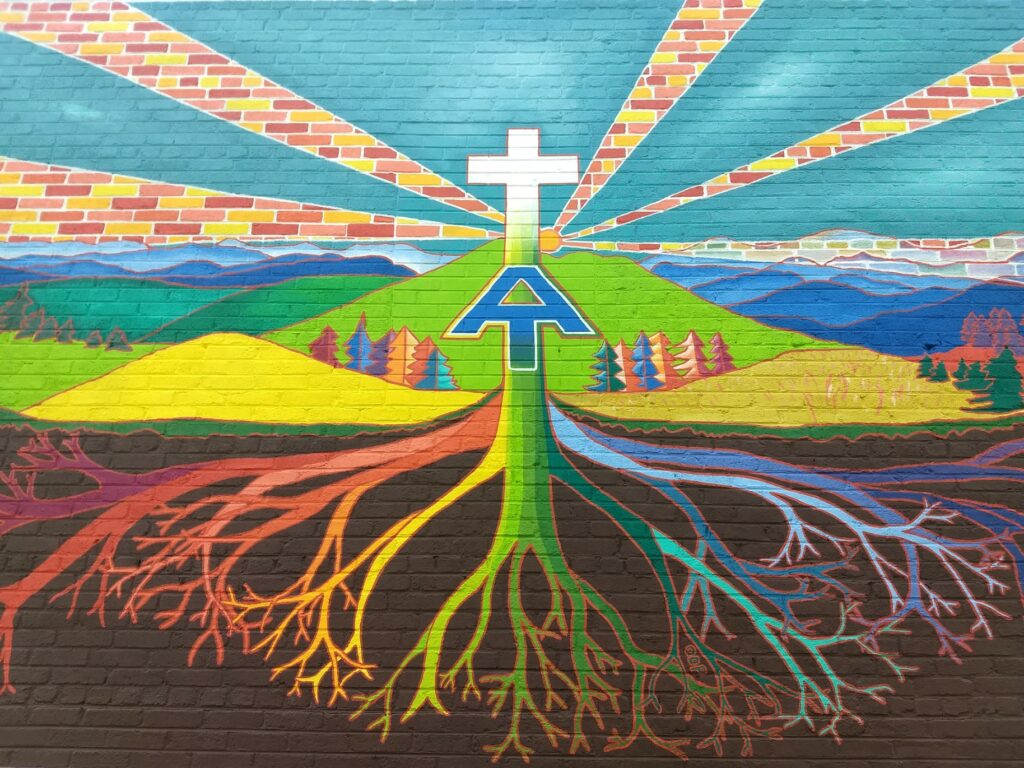 4/7/19
Busy
We have to filter our water on the trail. Although I once saw a washing machine in the woods, it turns out there isn't running water out there. While getting water one day I noticed these strange bugs on the surface of the water darting in every direction, non stop back and forth. I began to think, "what are they doing?" They went on without ceasing the whole time I watched them.
I thought this must look like our lives often do to God, frantic movement nonstop with little to no real reason behind it. We feel like this busyness is essential for our lives, but with a view from afar does it really make any sense?
Being on the trail seems like a great time to slow your pace, take time and focus on our relationship with others and God, but it's so easy to stay busy. To focus on the miles, the logistics, the final destination. This seems to be a carryover from our "real" lives, but maybe there is another way. Jesus calls us to not worry about tomorrow, and I would like to spend more time practicing this discipline, and I would invite you to do the same.
Thank you for your prayers, they give us strength, and help us every step of the way.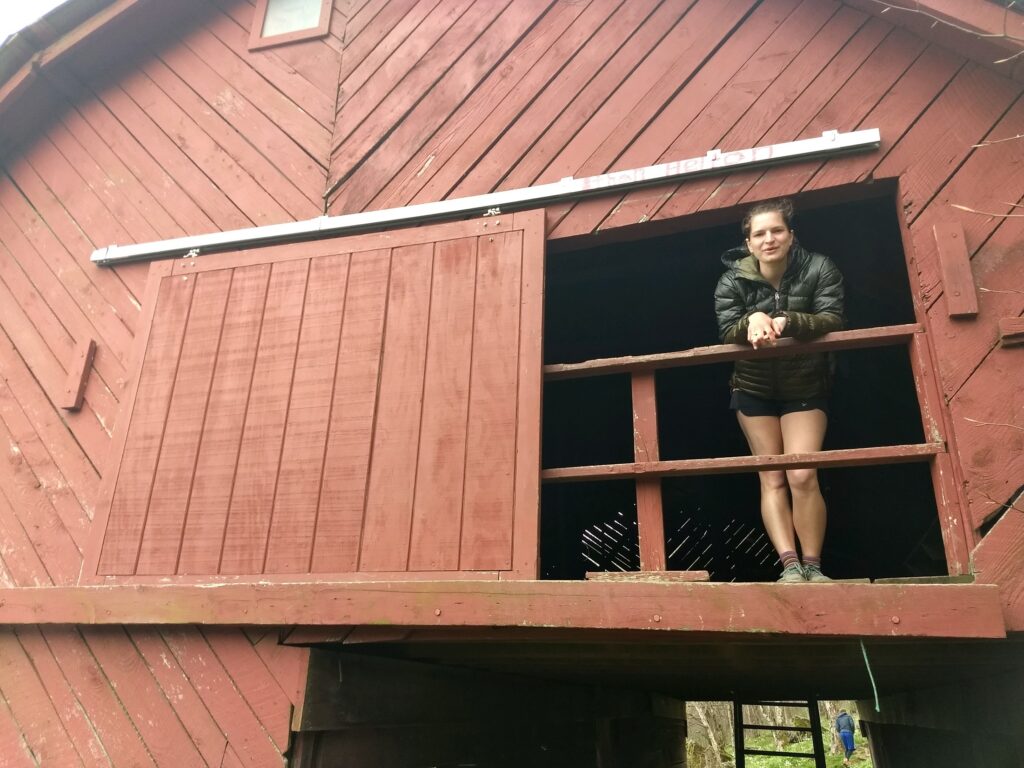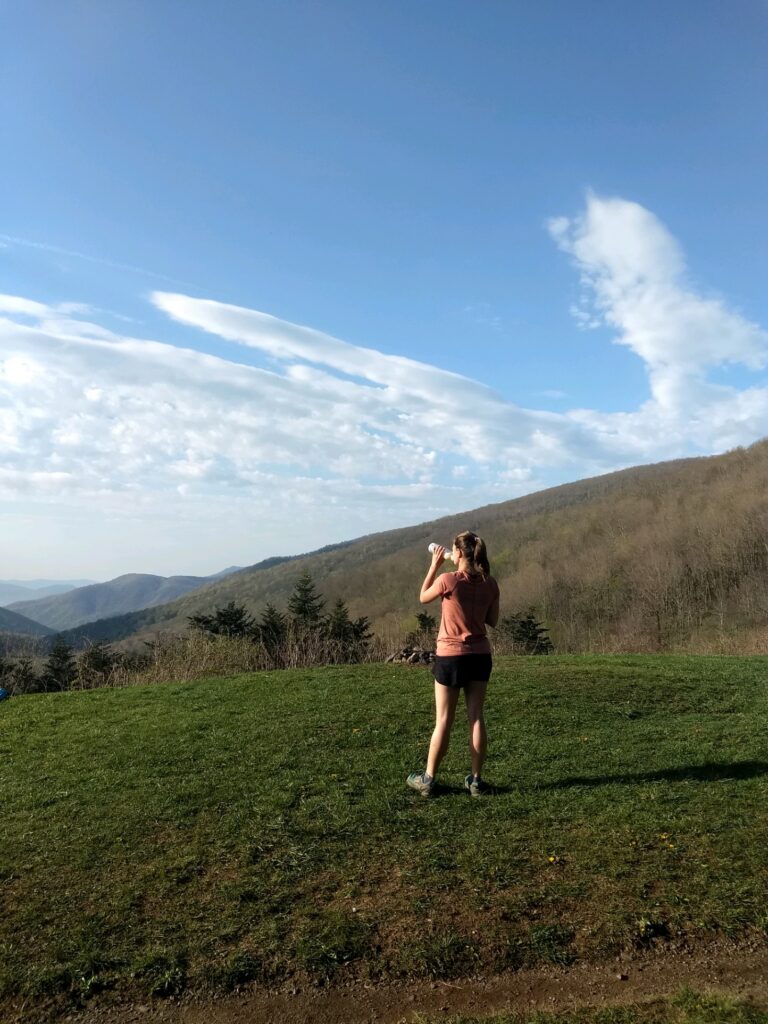 May 1, 2019
Mile 395
We have a lot of time to think on the trail, I often find my mind wondering to what's next after the trail. It's insane that this is what I have become preoccupied with, because I have spent months before the trail thinking solely of beginning our hike.
This isn't an unusual pattern for me, and I imagine others as well. It's so easy to only think about the future, and in doing that miss out on the beauty around us. I can feel God showing me that I need to grow in this area, to open my eyes, and live in the here and now.
This week we stayed at one of the most beautiful shelters on trail, the Overmountain Shelter. Below us in the valley it appeared as if Bob Ross and God teamed up to paint the most incredible spring vista we've seen so far. If I had been in my usual state of mind of thinking only about what's next I could have glossed right over this view. However I have been praying for help to focus on the now, and I have felt God working to change that. I invite you this week to focus on the now, the small things, and in so doing you will be pleasantly surprised to see God moving in incredible ways.
Thanks for your prayers they help us on each step of the way.
April 22, 2019
Mile: 320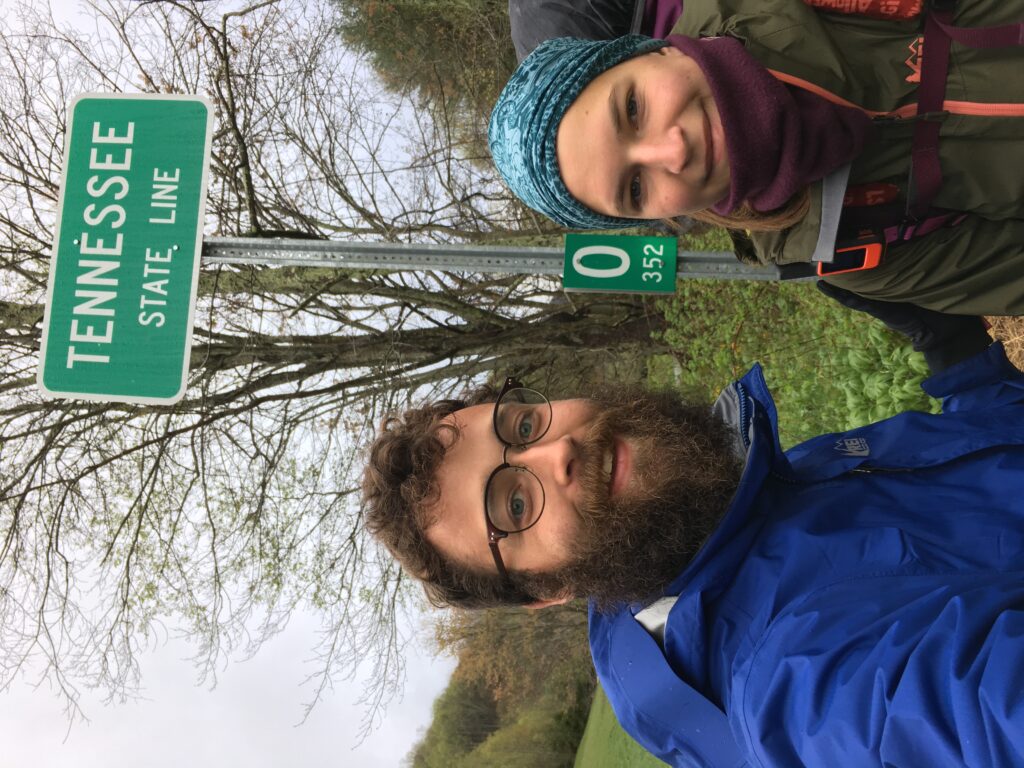 April 14, 2019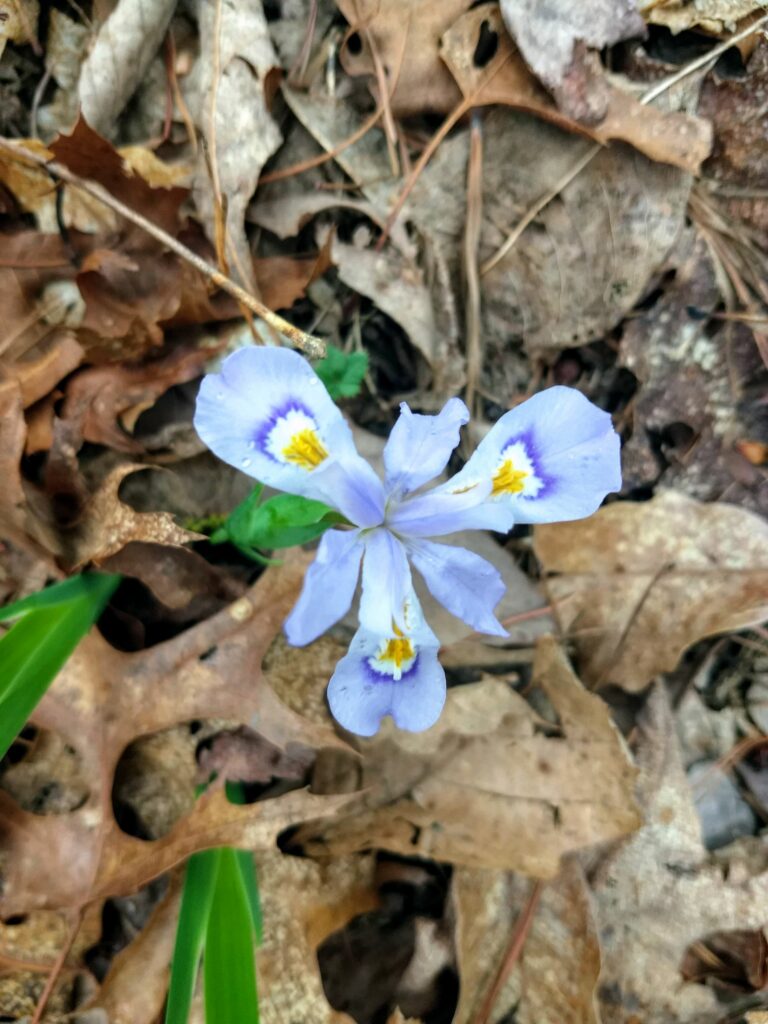 Alone
We have passed through the Smokies, and we are now spending a few days with Kalie's family. We are thankful to have time to relax and reflect on our time on the trail so far. We both are so thankful for the love, support, and prayers of everyone who has helped us this far on the journey. Truly, we could not have made it this far without a community of support. Honestly, no one can make it on the Appalachian Trail by themselves, or in their walk with Jesus. We are called to walk together through the ups and downs of life. We can also take comfort in the fact that Jesus walks with us, and has created a community in the church that we can walk with through the celebrations, and challenges of life. Those who think they can go it alone, have simply forgotten that many people have walked the path ahead of us, preparing the way for those who now walk on the path of the Appalachian trail, and of Faith.
Please keep us in your prayers, they give us strength, and help us in our journey.
April 9, 2019
Mile 109 – 207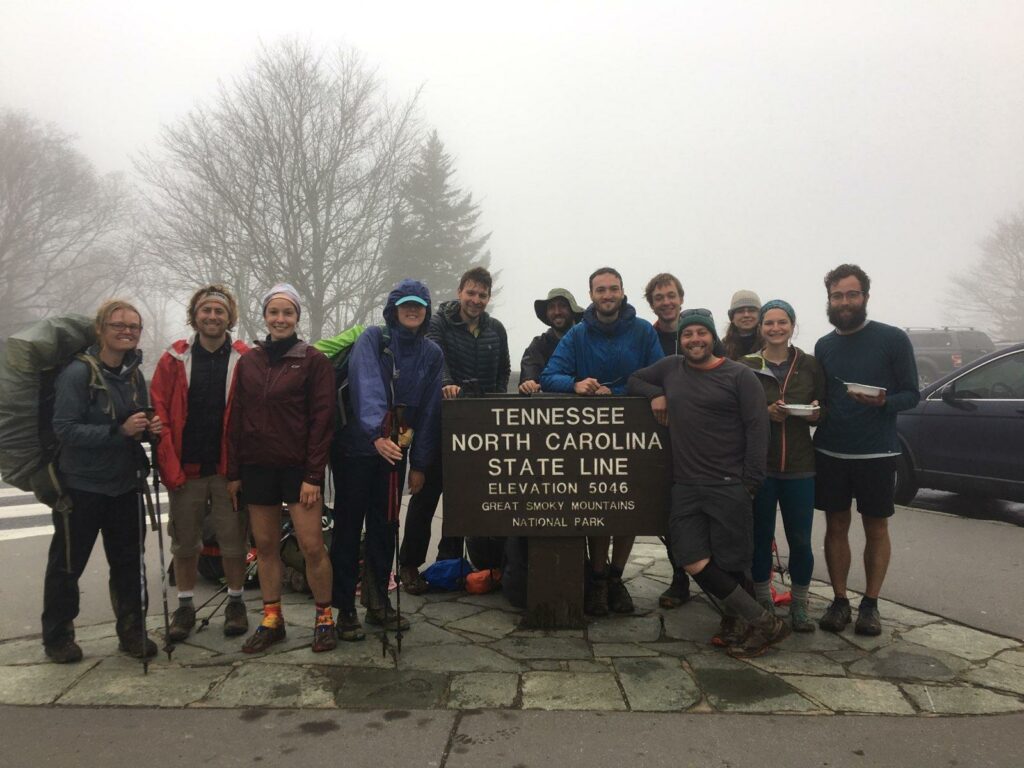 March 30, 2019
Mile 69-109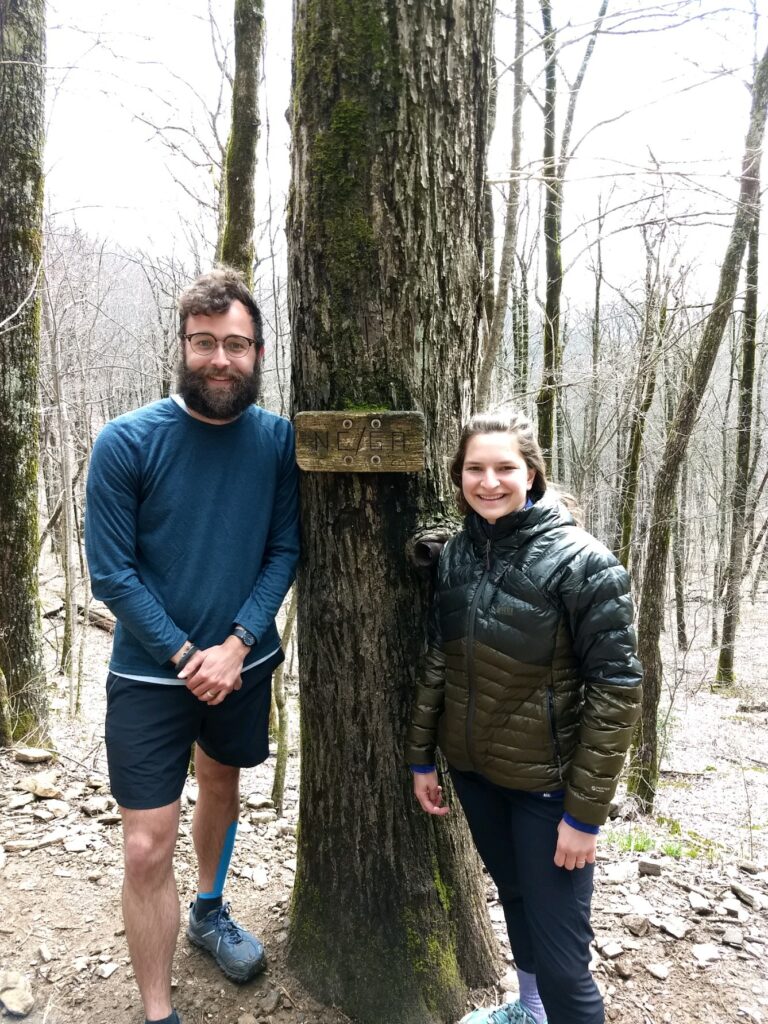 We have reached 100 miles!! We are so thankful for your support and prayers. Jesus says in Mark 6:26, that God takes care of the birds and the flowers, and he will watch over us, and to not worry about anything. While on the trail it's difficult to remember to not worry, but God has provided for us in things both big and small. We have had beautiful weather, plenty of water, and fantastic friends throughout our journey. Each day we are reminded to trust God, and we have seen how he provides for the birds of the air, the flowers of the fields, and for his children on the trail.
Keep us in your prayers, they give us strength, and are helping us in our journey.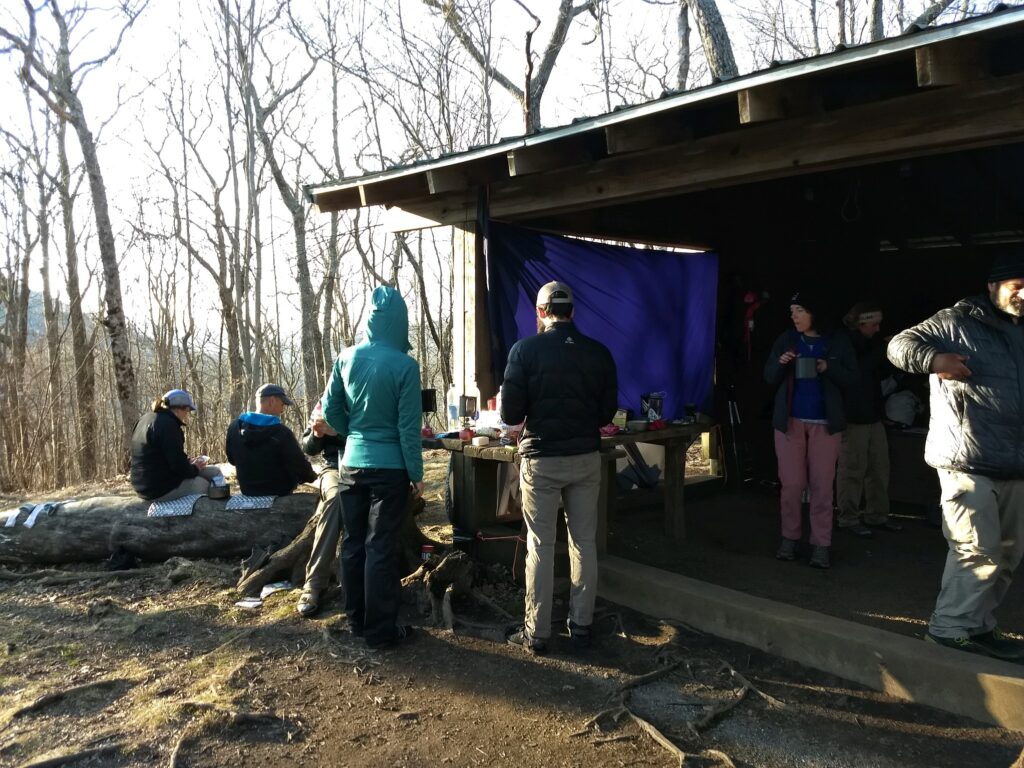 March 25, 2019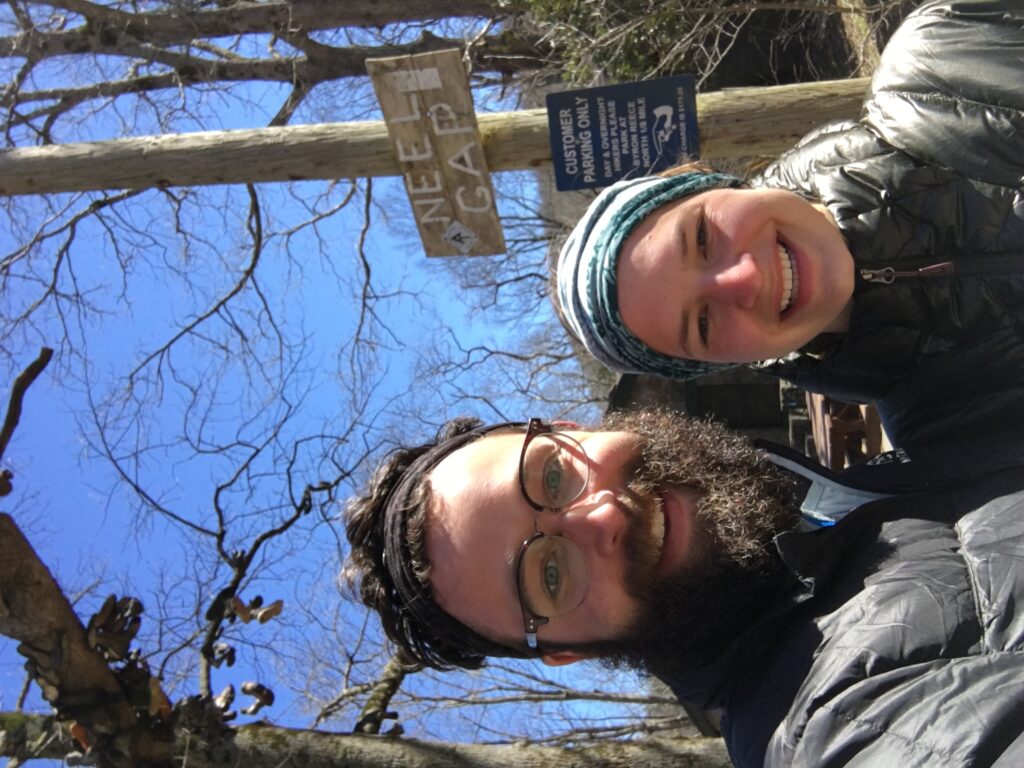 Mile 31.3 – 69.2
We have made it to Hiawassee!! We did more miles per day this section and we are both feeling it. The last few days have been both incredible and challenging. We have met so many incredible people, and we have experienced our first "trail magic" (acts of kindness on the trail from non hikers, usually in the form of food). We have also had our first day of rain as we came into town. We have been able to have great conversations with the people we have met along our journey, and each day we get to see a little more of God's good creation. Keep us in your prayers, they help us continue our journey.
March 22, 2019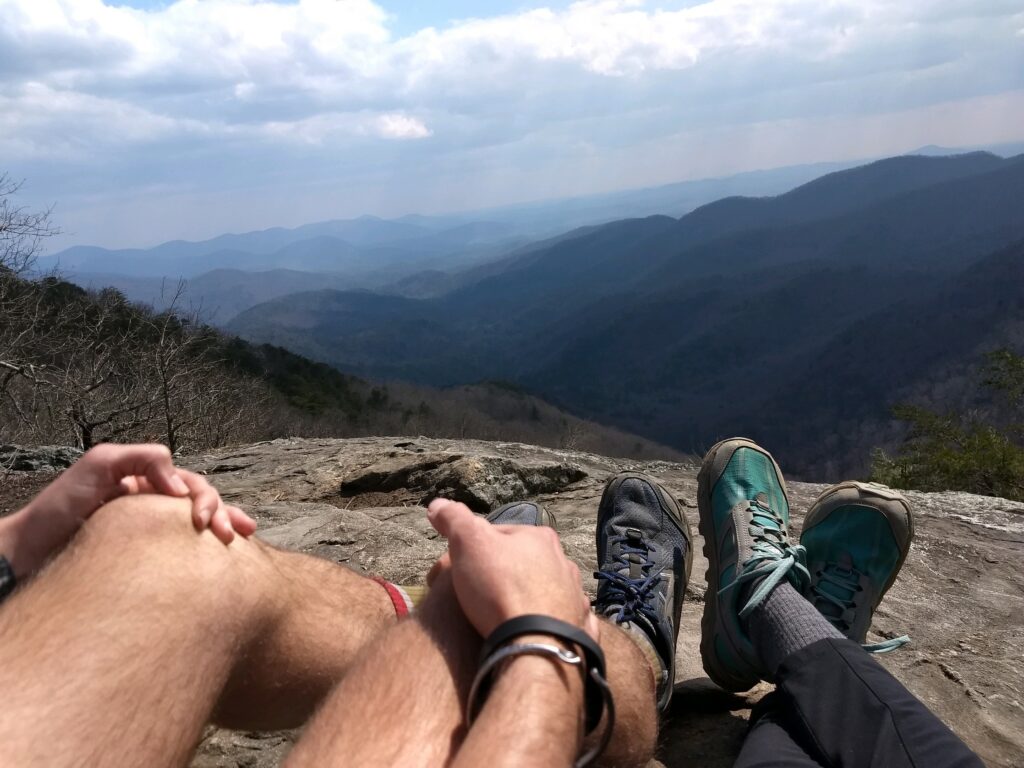 In The Beginning
We started at Amicalola falls on Monday, and we have just arrived at Neel Gap this Friday afternoon. In this short period of we have already experienced incredible kindness from strangers, who now are called friends. We have seen God provide throughout our time on the trail, in the people we have met, and in the beauty we have seen. We are excited to continue our journey of community, growth, and faith. We still have a long way to go but we are thankful for this beginning.
Thank you for your prayers and support, it truly keeps us going each day.
March 16, 2019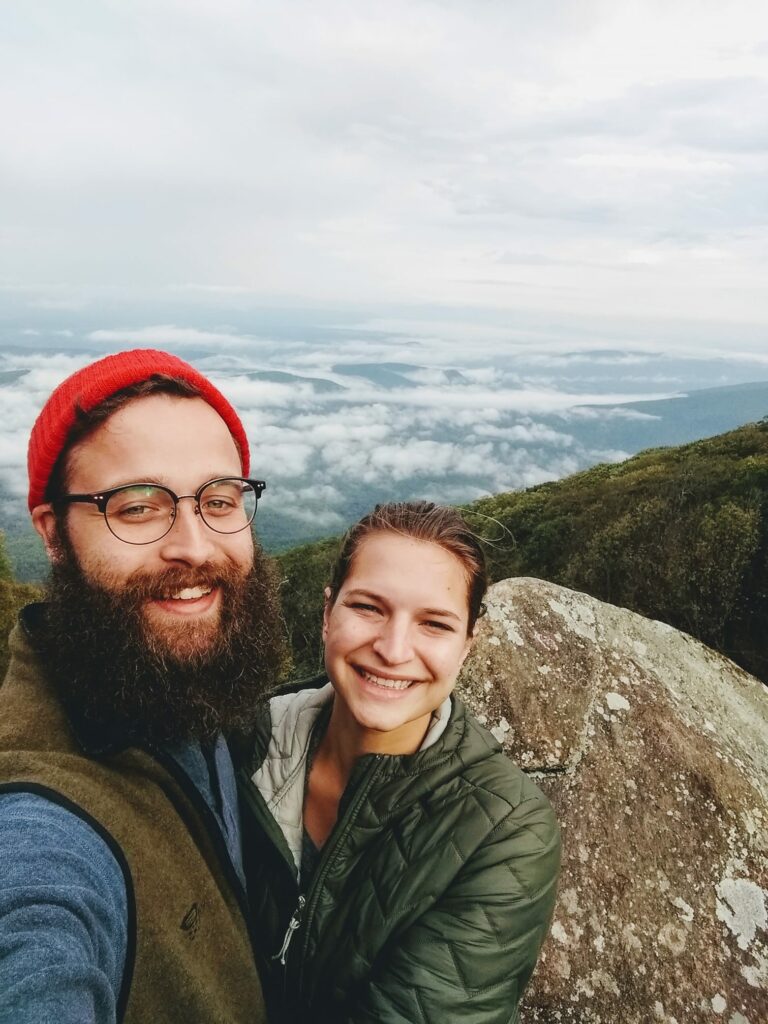 Hello everyone, we are Kalie and Garrett Hammonds. For those of you who may not know us yet we are blessed to be working with the Holston Conference as circuit hikers on the Appalachian trail. We are thru hiking heading north from Springer Mountain Georgia to Maine. We are both from Tennessee, and love hiking, camping, and anything outside.
To keep this relatively short, we are staring the trail this Monday the 18th!! And we are both very excited to see how God shows up during our time on the trail. We look forward to hearing from you all, and please keep an eye on this page, as well as the Chaplain Facebook page for updates!